What is an Adverb in English Grammar? We'll explain the meaning of a adverb, how to use adverb, types of adverbs, and provide a variety of examples of adverb in English. When you're learning English grammar, you've to deal with the adverb. But what exactly is it? And what does adverb do in a sentence? In this article, we will look deeper into the definition of a adverb, how it can be used, and the rules that govern its use. Additionally, we will look at some examples to better understand the purpose of adverbs.
As a guide, the below definitions and tables provide the fundamental use of the adverb. Read on to get a more in-depth explanation of the rules and examples of when and how to use an adverb.
Learn to use adverb with example sentences and ESLBLOCK worksheets for printing.
Also read: Baby Farm Animals
What is a Adverb?
Adverbs are words that modify the meaning of a verb or an adjective or another adjectival adverb, or a whole sentence. Adverbs typically end in the form of a -ly. Adverbs are one of the nine parts of speech.
My mother swims badly.
The baseball match ended quickly.
Fortunately, my relatives were not late for my wedding party.
They only shopped locally.
They are happily engaged.
Benjamin stopped by briefly to say hello.
Sophia calls him regularly.
Adverb is a radically different part of speech from a conjunction, interjunction, noun, verb, adjective, and the rest.
Adverbs with Verbs
Some adverbs can be used with verbs and so cannot modify adjectives. An adverb is used to answer questions like, "how does something happen? Some examples of adverbs with verbs are:
My dog does not bark loudly.
Isabella will seriously think about this story.
Oliver coughed loudly to attract her attention.
He plays the Ice hockey beautifully.
Dog ate the meat greedily.
She spoke softly.
Amelia swims well.
William ran quickly.
Adverbs with Adjectives and other Adverbs
Adverbs also have the capacity to modify an adjective or another adverb. This is an excellent method of causing an adjective to be more powerful and descriptive, providing a greater clarity of what it is talking about. Think about the phrase "she is smart." The adjective in this case is smart, however with the use of an adverb, we can identify how smart she is. Take a look at the sentence after it's been changed:
Here are some further adverb examples of how an adverb can modify an adjective.
Emma was extremely happy.
My brother is rather attractive.
The team was unexpectedly busy.
My brother is always well dressed.
Adverbs to Modify a Sentence
Adverbs can be used to modify the entire sentence, and, in this example, typically, it appears at the start of the sentence. If used in this manner, the adverb isn't discussing a particular thing; however, it is used to provide an overall view of the presented information. Examples of this include:
Generally, visitors take the bus into London.
Luckily, my family lives in a nice house.
Adverbs for Comparison
In some sentences, you may use an adverb to establish a comparison. It is possible to do this by putting more or most before the adverb. Let's examine the issue in the following sentences.
Amelia ran quickly.
Amelia ran more quickly.
Amelia ran the most quickly.
Buses go more slowly than cars.
Could you talk a bit more quietly please?
Positive Adverbs List
Here is a list of positive adverbs list, that shows how an action was done in a positive way in the writing.
warmly
vivaciously
victoriously
safely
powerfully
politely
perfectly
obediently
merrily
kindly
innocently
honestly
happily
gracefully
gleefully
fortunately
faithfully
elegantly
eagerly
devotedly
deftly
cheerfully
brightly
bravely
boldly
Negative Adverbs List
You might need an adverb that suits a more negative tone. Here is a list of negative adverbs list.
wearily
unhappily
terribly
selfishly
sadly
rudely
poorly
painfully
obnoxiously
morosely
miserably
lazily
joylessly
jealously
irritably
hopelessly
foolishly
enviously
dejectedly
boastfully
badly
anxiously
annoyingly
angrily
achingly
Types of Adverbs
There are various types of adverbs that have multiple meanings. Adverbs generally tell us how, where, when, how much, and frequency. Thus, types of adverbs are classified based on their function. There are nine main types of adverbs.
Adverb of Frequency
Adverb of Manner
Adverb of Time
Adverb of Place
Adverb of Degree
Adverb of Certainty
Adverbs of Attitude
Adverbs of Judgement
Conjunctive Adverb
Adverbs of Speed
Adverb of Frequency
Frequency adverbs let us know the frequency at which something happens. These adverbs usually be placed before the main verb or near the end of the clause. The most popular adverbs of frequency in this category include:
again
always
every
never
normally
rarely
seldom
sometimes
usually
Adverb of Manner
An adverb of manner will describe how an action is carried out. Usually, adverbs of manner are adjectives with -ly added to the end, but this is not always the case. Some adverbs of manner will have the same spelling as the adjective form. Some examples of adverbs of manner include:
Badly
Clumsily
Diligently
Rapidly
Sadly
Slowly
Sweetly
Warmly
Adverb of Time
This is a list of standard single-word time adverbs. Adverbs of time significantly modify verbs and tell us when something occurs. Here are some examples of adverbs of time:
yesterday
yearly
weekly
usually
tomorrow
today
still
soon
sometimes
seldom
regularly
rarely
often
occasionally
normally
nightly
never
later
hourly
generally
frequently
finally
eventually
daily
always
Adverb of Place
Adverbs of place reveal more information about where the verb took place. Many writers are confused with prepositions which define the place of nouns. Although certain words are prepositions, they are regarded as adjectives when they modify verbs. Additionally, prepositions are followed by objects, but they are not adverbs that are used to describe places. Here are some examples of adverbs of place:
there
outside
out
nowhere
inside
here
everywhere
below
back
anywhere
above
Adverb of Degree
Adverbs of Degree tell us more about the strength of the verb used in the sentence. They define what degree or how much an event took place. Adverbs of degree are typically set before any word that they modify, but in some instances, they are placed after an adjective (such as the word "enough"). Here are some examples of adverbs of degree:
too
so
simply
quite
nearly
just
hardly
enough
almost
Adverb of Certainty
Here are some examples of adverbs of certainty:
apparently
clearly
definitely
doubtfully
doubtlessly
obviously
presumably
probably
undoubtedly
Adverbs of Attitude
Here are some examples of adverbs of attitude:
fortunately
frankly
honestly
hopefully
interestingly
luckily
sadly
seriously
surprisingly
unbelievably
Adverbs of Judgement
Here are some examples of adverbs of judgement:
bravely
carelessly
fairly
foolishly
generously
kindly
rightly
spitefully
stupidly
unfairly
wisely
wrongly
Conjunctive Adverb
Here are some examples of conjunctive adverb:
additionally
also
anyway
besides
certainly
comparatively
consequently
conversely
elsewhere
equally
finally
further
hence
in addition
in comparison
in contrast
incidentally
indeed
meanwhile
moreover
namely
nevertheless
next
nonetheless
now
rather
similarly
subsequently
thereafter
undoubtedly
yet
Adverbs of Speed
The ability to describe how fast an object can move is an effective method to change a verb! Use these adverbs when discussing the speed of a verb. Here are some examples of adverbs of judgement:
tediously
swiftly
speedily
slowly
rapidly
quickly
promptly
leisurely
lazily
languidly
instantly
immediately
hurriedly
hastily
haltingly
gradually
fleetingly
expeditiously
casually
briskly
Where Should You Place An Adverb?
Different types of adverbs go in various positions in the sentence. Let's memorize these adverb positions in a sentence, also called adverb placement.
The front position: In front of any subject in the sentence. It provides information ahead of time to establish the scene for the subsequent action.
The mid position Adverbs at this point is closely associated with the verb, typically placed just before it. When there's an auxiliary verb it is placed between the auxiliary verb and main verb. If there are two of them, the adverb is put between both. If there's a negative auxiliary the adverb is usually placed just after the negative element, however it is possible to emphasize negation using the word before the negative element.
The end position: At the end of the sentence.
Adverb InfoGraphics
Here are some printable infographics about adverb. Printable infographics are a fantastic way to share a significant amount of details in a short time in a stunning way. The adverb infographic can help teachers and students to share their thoughts easily.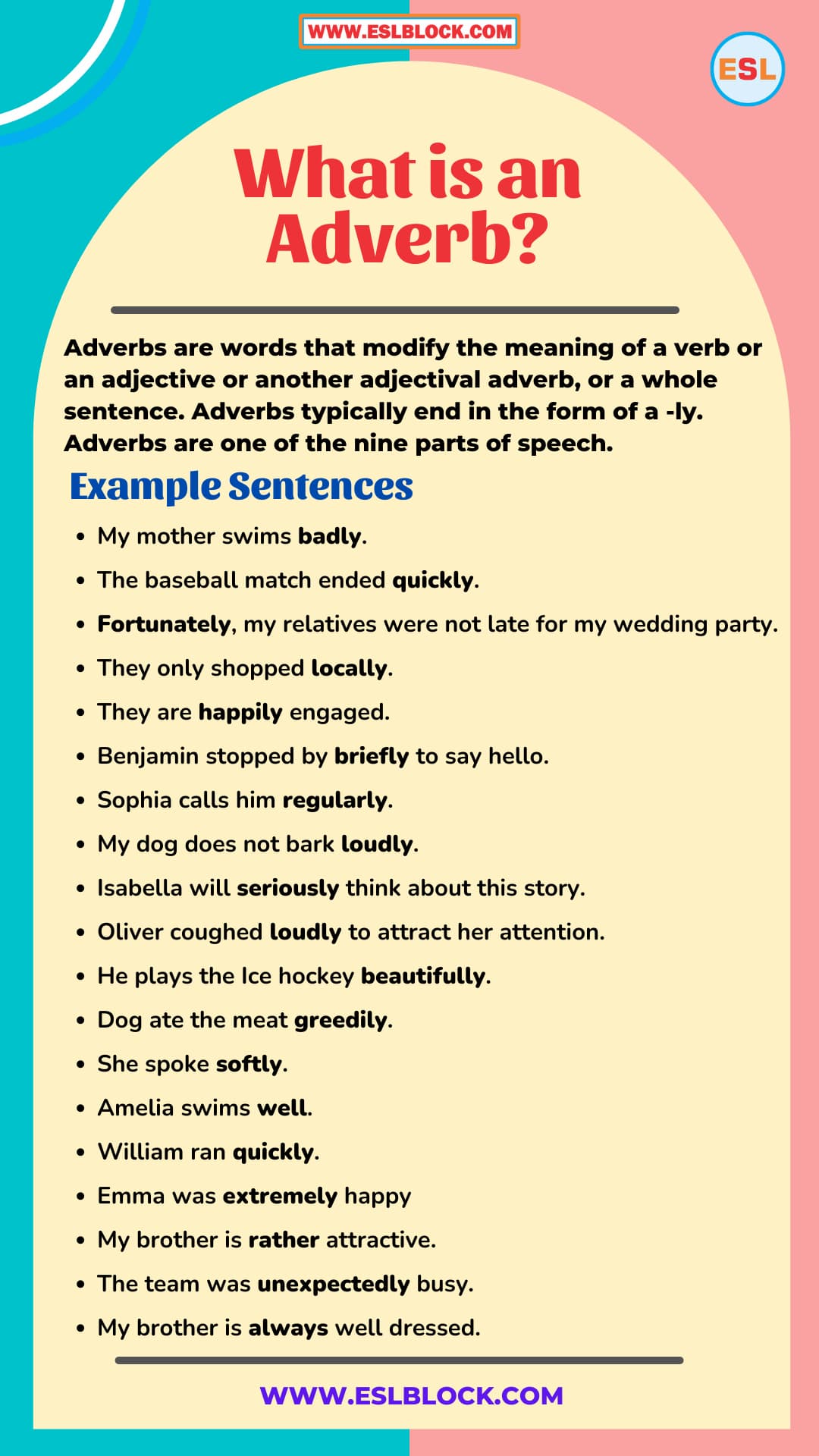 My Considerations
With this set of activities and explanations, you will quickly determine whether you are making the most effective use of the adverb and how they could be used to enhance English writings.
Since the adverbs are the main part of English Grammar, the importance of developing English learning skills cannot be undervalued without adverb.
You can read the above sample sentences about adverb to improve your understanding of English grammar.
Encourage your children to learn these basic but commonly used adverb, by following the simple example sentences given above. Then, save this list of adverb sentences, handy for your kids in future.
If you enjoyed a printable infographic about What is an adverb?, I'd be very thankful if you'd help it spread by emailing it to your friends or sharing it on Pinterest, Reddit, Twitter, Instagram, or Facebook. Thank you!
Also read: Adjectives That Start With Y
Recap of what we just learned
What is an Adverb?
Adverbs with Verbs
Adverbs with Adjectives and other Adverbs
Adverbs to Modify a Sentence
Adverbs for Comparison
Positive Adverbs List
Negative Adverbs List
Types of Adverbs

Adverb of Frequency
Adverb of Manner
Adverb of Time
Adverb of Place
Adverb of Degree
Adverb of Certainty
Adverbs of Attitude
Adverbs of Judgement
Conjunctive Adverb
Adverbs of Speed

Adverb InfoGraphics
With ESLBLOCK, you will not face problems studying new ideas. If you are in doubt, the qualities of blog post about What is an adverb, reach us through our blog's comment section. Keep checking back! We'll attempt to give you feedback as early as possible. Thank you!
Also read: Adjectives That Start With Z
Related Topics
Explore the full list of Adjectives to Describe a Person from A to Z!