In this article, I am going to explain the Adverb of Place with Example Sentences. An adverb of place is one of the ten types of adverbs. The other nine are Conjugative adverbs, Adverb of Degree, Adverb of Time, Adverb of Frequency, Adverb of Manner, Adverb of Certainty, Adverbs of Attitude, Adverbs of Judgement, Adverbs of Speed, and Adverbs of Duration.
Adverbs are words that modify the sense of a verb or an adjective or a whole sentence. You may perform an Adverb of Place quiz for more understanding.
Also read: What is an Adverb in English Grammar?
What is the meaning of the adverb of place, and how do you use them to improve your English writing and speaking? These are the questions you'll get the answers to in this comprehensive article. There are also excellent examples and a list of adverbs of place.
What is the Adverb of Place?
The adverbs of place inform about the location where the verb's action occurs. Common adverbs of place include: Abroad, Across, Ahead, Anywhere, Back, Backwards, there, nearby, and below.
Adverb of Place List
There are so many adverbs of Place that it's challenging to enlist them all in one place. Here is an alphabetical list of 100 common adverbs of place.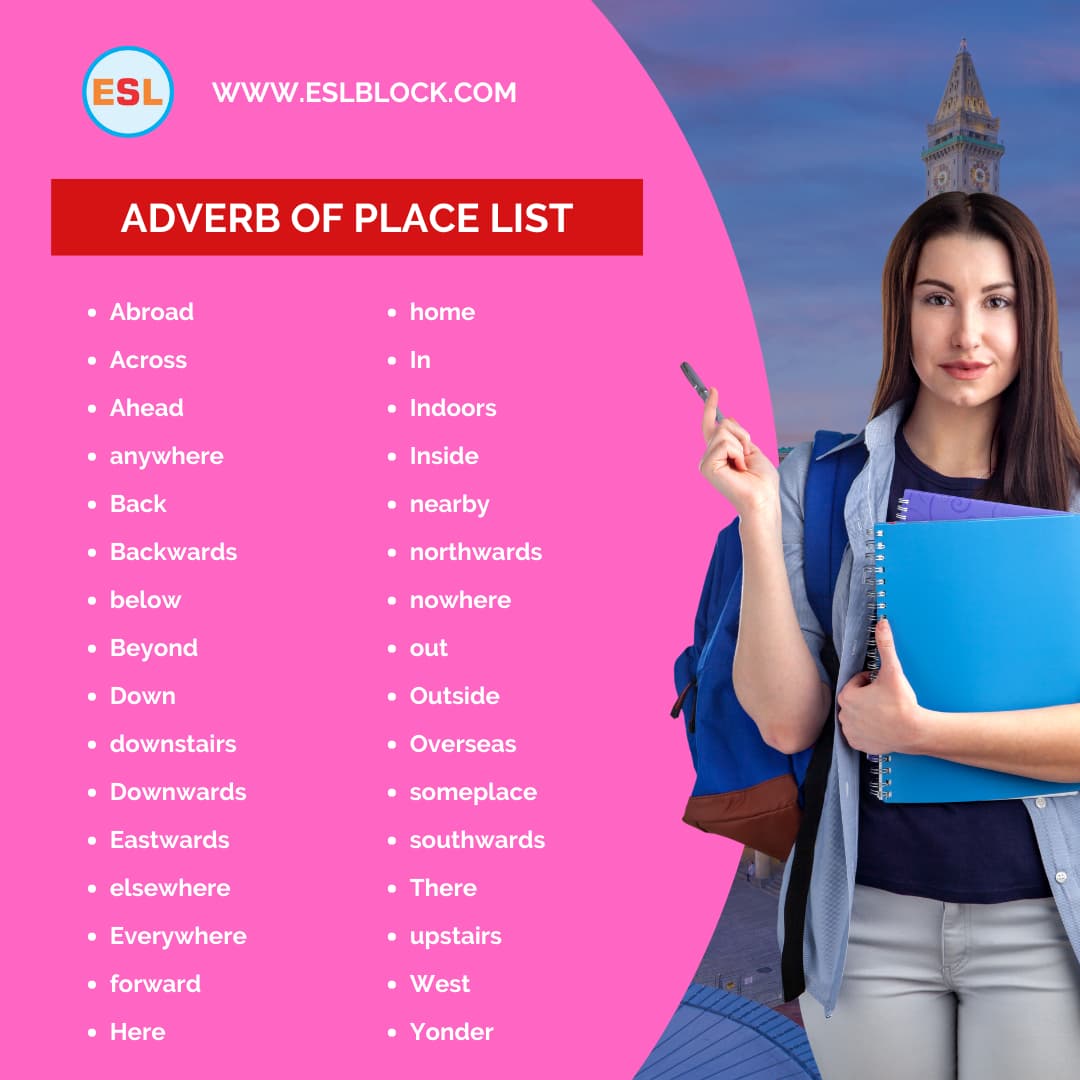 | | |
| --- | --- |
| Abroad | home |
| Across | In |
| Ahead | Indoors |
| anywhere | Inside |
| Back | nearby |
| Backwards | northwards |
| below | nowhere |
| Beyond | out |
| Down | Outside |
| downstairs | Overseas |
| Downwards | someplace |
| Eastwards | southwards |
| elsewhere | There |
| Everywhere | upstairs |
| forward | West |
| Here | Yonder |
Adverb of Place Example Sentences
Here is the list about adverb of place.
Put the book there.
After a long day at work, they headed homewards.
Please bring that car here.
My grandmother's house is nearby.
Olivia went to Japan yesterday.
Liam will stay there for ten days.
Noah will stay at Hotel Travis.
It is situated in New York.
He did not go there with her.
I work at Microsoft Corporation.
My school is in Central Park.
Central Park is situated in Lahore.
However, he stays at the office most of the time.
I will attend the meeting at my office.
I feel comfortable working in my office.
Sometimes I go abroad for a job.
Emma also went to many places with him.
But this time, Benjamin could not go there with her.
Once, we stayed in Bali for seven days.
They visited Tajmahal in Agra.
We went to Florida and stayed there for seven days.
They came back to America with many adventures.
The tree is down the river.  
We looked around the hospital.  
Our village is south of here.
Adverb of Place Exercise
These exercises will help you understand the Adverb of Place. To complete each sentence, choose the best answer.
The manager meets ________ to review improvements.
I ________ have cereal for lunch.
I ________ go to the park.
They ________ surf the internet.
I ________ forget my husband's birthday.
We ________ eat junk food.
Amelia ________ reads the newspaper.
I ________ swim in the river.
Facebook is ________ frustrating.
He was ________noisy.
Answer Key:
He walked north.
They're going east.
Charlotte is wearing a necklace around her neck.
William made his way carefully down the cliff.
She dropped the letter in the mailbox.
I'm going back home.
We built a house nearby.
Amelia took the child outside.
Dogs don't usually walk backwards.
Elijah lived and worked abroad.
Adverb of Place InfoGraphics
Here are some printable infographics about Adverb of Place with Example Sentences. Printable infographics are a fantastic way to share a significant amount of details in a short time in a stunning way. The Adverb of Place with examples of infographics can help teachers and students to share their thoughts easily.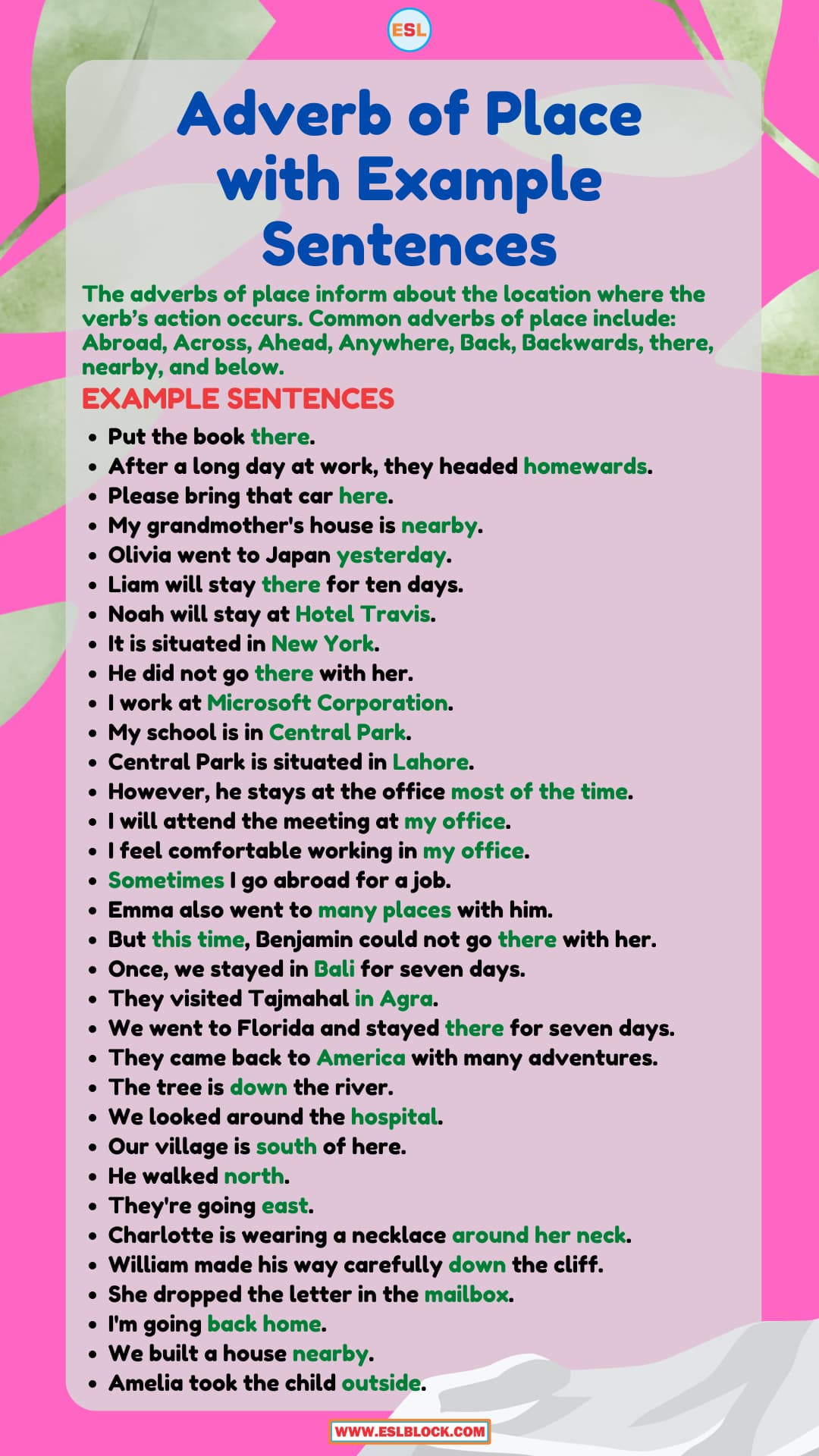 My Considerations
With this set of Adverb of Place with Example Sentences, you will quickly determine whether you are making the most effective use of the Adverb of Place and how they could be used to enhance English writing skills.
Since the adverbs of place is the main part of English Grammar, the importance of developing English learning skills cannot be undervalued without adverb of place with examples.
You can read the above sample sentences about adverbs of place with example sentences to improve your understanding of English grammar.
Encourage your children to learn these basic but common rules for using adverbs of frequency with example sentences, by following the simple example sentences given above. Then, save this list of adverb of place, handy for your kids in the future.
If you enjoyed a printable infographic about Adverb of Place with Example Sentences, I'd be very thankful if you'd help it spread by emailing it to your friends or sharing it on Pinterest, Reddit, Twitter, Instagram, or Facebook. Thank you!
Also read: Adjectives That Start With Y
Recap of what we just learned
Adverb of Place with Example Sentences
Adverb of Place
Adverb of Place List
Adverb of Place Exercises
Answer for Adverb of Place Exercise
Adverb of Place InfoGraphics
Types of Adverb Quiz
With ESLBLOCK, you will not face problems studying new ideas. If you are in doubt, about the qualities of blog posts about Adverb of Place, reach us through our blog's comment section. Keep checking back! We'll attempt to give you feedback as early as possible. Thank you!
Also read: Adjectives That Start With Z
Types of Adverbs Quiz
Related Topics
Explore the full list of Adjectives to Describe a Person from A to Z!