What are Coordinates Adjectives? In this article, I am going to explain Coordinate Adjectives in English Grammar for kids. There are a few kinds of adjectives, but Coordinate Adjectives are the most common. Other kinds of adjectives include demonstrative adjectives, comparison adjectives (Comparative adjectives and Superlative Adjectives), proper adjectives, compound adjectives, possessive adjectives, quantitative adjectives, and negative adjectives.
Learn to use Coordinate Adjectives in English with example sentences and ESLBLOCK worksheets for printing.
We all know that studying English is fascinating, and it becomes even more interesting when you're mastering new concepts and applying them with zeal and enthusiasm. In this blog, you will learn about Coordinate adjectives and how to use them to the best advantage. In this class, we will be learning the meaning of the term Coordinate adjective and how it could be used to make amazing sentences.
Also read: Adjectives That Start With U
What are Coordinate Adjectives?
Coordinate Adjectives are two or three adjectives used to modify the meaning of the same noun. These adjectives are separated with a comma or and.
In general, according to the rules in English Grammar, coordinate adjectives can also be described as paired adjectives. You'd have at least two adjectives before the noun, describe the same noun, and separate them with commas. In this case, the adjectives used are the same in their usage.
If you recognize your grammar, you're most likely already well aware of adjectives.
How to Make Coordinate Adjectives?
You know that an adjective modifies or describes a noun. Examples of adjectives (in bold) modifying nouns (italic) in sentences include:
It's a fast cat.
Sofia is so smart.
What a thoughtful quote!
These adjectives tell us something about the cat, Sofia, or the quote. However, sometimes you need to describe your nouns in greater depth. If you're describing a word using multiple adjectives, then you've made the concept of a coordinate adjective.
It's a fast and lovely cat.
Sofia is so smart and intelligent.
What a thoughtful and encourgeous quote!
Each adjective is an individual aspect of the noun yet equally relevant to the sentence's meaning. For example, the phrase "happy and energetic" dog is different from one who is a "happy and calm" dog. But neither "happy" nor "lively" is a more important adjective than the other.
It's a happy, lively and well-behaved cat.
Sofia is so smart, creative and funny.
What a thoughtful, generous and beautiful quote!
Also read: Adjectives That Start With V
Punctuating Coordinate Adjectives
One of the most difficult parts of the coordinate adjectives can be punctuation. Coordinate adjectives need to be separated with a comma or "and." You may have noticed coordinate adjectives that look similar to the following:
They awoke to the sound of cheerful and perky songbirds.
What a gratifying and productive morning.
We hesitated before heading down the creepy, narrow, poorly-lit path.
The rusty, creaking, spider-ridden, ugly tractor rotted away in their workshoop.
I'm resting in a heavenly, soapy, warm, and luxurious bath right now.
Also read: Adjectives That Start With W
Sentence Examples of Coordinate Adjectives
Let's learn about the different ways to use coordinate adjectives used in the sentence.
In morning, I ate two tasty, oversized blueberry muffins.
Isabella brought home two dozen, long and heavy bananas.
You are a very cruel, heartless person.
My boyfriend is a very tall, thin man.
The cuckoo with the thick, bushy tail is flying in the sky.
The dark yellow, beautiful rose flower smells very good.
I saw a large, migratory bird today in the park.
One of my children sang a happy, cheery song.
I don't know how to make soft, delicious and healthy breads.
Class 5th students are very disciplined, punctual and sincere.
My employees are not punctual, and efficient.
I have a cute, attractive and soft kitty.
I have a red, attractive gel pen.
My father is very polite, disciplined and strict.
I don't like to wear itchy, scratchy sweater as it irritates my cold dry skin.
Also read: Adjectives That Start With X
Coordinate Adjectives InfoGraphics
Here are some printable infographics about Coordinate Adjectives. Printable infographics are a fantastic way to share a significant amount of details in a short time in a stunning way. The Coordinates Adjective infographic can help teachers and students to share their thoughts easily.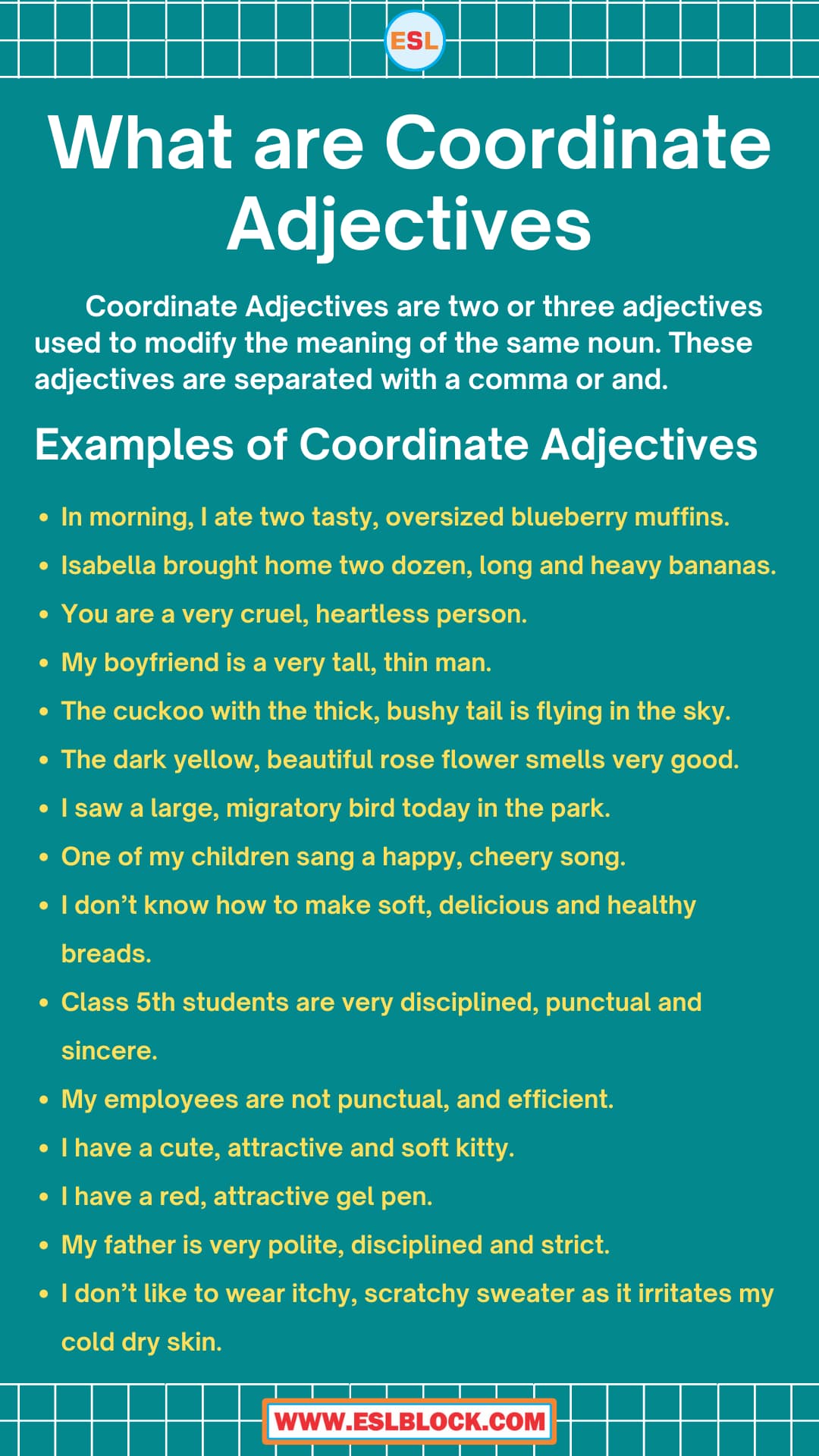 My Considerations
With this set of activities and explanations, you will quickly determine whether you are making the most effective use of the coordinate adjectives and how they could be used to describe the nouns within the sentence.
Since the Adjective is the main part of English reading, the importance of developing vocabulary cannot be undervalued without Coordinate Adjectives.
You can read the above simple list of Coordinate Adjectives to improve your understanding of English grammar.
Encourage your children to learn these basic but commonly used Coordinate Adjective, by following the simple example sentences given above. Then, save this list of Coordinate Adjectives, handy for future interview use.
If you enjoyed a printable infographic about Coordinate Adjectives, I'd be very thankful if you'd help it spread by emailing it to your friends or sharing it on Pinterest, Reddit, Twitter, Instagram, or Facebook. Thank you!
Also read: Adjectives That Start With Y
Recap of what we just learned
What are Coordinate Adjectives?
How to Make Coordinate Adjectives?
Punctuating Coordinate Adjectives
Sentence Examples of Coordinate Adjectives
Coordinate Adjectives InfoGraphics
With ESLBLOCK, you will not face problems studying new ideas. If you are in doubt about anything, reach us through our blog's comment section. Keep checking back! If you're having any doubts about the qualities of Coordinate Adjectives, you can leave a comment below, and we'll attempt to give you feedback as early as possible. Thank you!
Also read: Adjectives That Start With Z
Related Topics
Explore the full list of Adjectives to Describe a Person from A to Z!