What are Food Adjectives? In this article, I am going to explain Food Adjectives in English Grammar for kids. There are a few kinds of adjectives, but food adjectives are the most common. Other kinds of adjectives include coordinate adjectives, demonstrative adjectives, comparison adjectives (Comparative adjectives and Superlative Adjectives), proper adjectives, compound adjectives, possessive adjectives, quantitative adjectives, and negative adjectives.
Learn to use Food Adjectives in English with example sentences and ESLBLOCK worksheets for printing.
Also read: Baby Farm Animals
What are Food Adjectives?
When making your menu, the choice of words is important. While the pricing of your menu is essential, however, the words you choose to describe the food and the way you create an appearance on your menu could attract customers and boost sales if they are correctly selected.
A poorly-written menu could turn off customers or make them feel confused if not attentive. Below, we'll break down the most important elements of menu writing and give you some food adjectives to get you going.
Does it not make you feel that "Very excellent" and "Delicious" are often used in the same way that words as "Nice" were once? What would happen if there were many different kinds of food adjectives? Guess what. There are!
If you recognize your grammar, you're most likely already well aware of adjectives.
List of Food Adjectives
Here is a list of common food adjectives to describe the taste, texture, and flavor of food items:
Acid
Acidic
Airy
Ample
Appealing
Appetizing
Aromatic
Astringent
Baked
Balsamic
Beautiful
Bite-size
Bitter
Bittersweet
Bland
Blazed
Blended
Blunt
Boiled
Brackish
Briny
Brown
Burnt
Buttered
Buttery
Caked
Calorie
Candied
Caramelized
Caustic
Center cut
Cheesy
Chewy
Chocolate
Cholesterol free
Chunked
Chunky
Classic
Classy
Cold
Cool
Crafted
Creamed
Creamy
Crisp
Crispy
Crumbly
Crunchy
Cured
Cutting
Dazzling
Deep-fried
Delectable
Delicate
Delicious
Delight
Delightful
Distinctive
Doughy
Dressed
Dried Out
Dripping
Drizzle
Dry
Dull
Earthy
Edible
Elastic
Ethnic
Extraordinary
Famous
Famy
Fantastic
Fetid
Fiery
Filet
Fit for a king
Fizzy
Flaky
Flat
Flavored
Flavorful
Fleshy
Fluffy
Fragile
Free
Fresh
Fried
Frozen
Fruity
Furry
Gamy
Garlic
Generous
Gingery
Glazed
Golden
Gorgeous
Gourmet
Greasy
Grilled
Gritty
Gummy
Harsh
Heady
Herbal
Honey
Honeyed
Hot
Icy
Infused
Insipid
Intense
Juicy
Jumbo
Kosher
Large
Lavish
Lean
Leathery
Light
Lite
Lively
Low
Low-fat
Luscious
marinated
mashed
Mealy
mellow
Melty
mild
minty
mixed
mixture of
moist
Mouth watering
nationally famous
natural
nectarous
non-fat
nutmeg
nutty
oily
open face
organic
overpowering
palatable indicates
penetrating
peppery
perfection
petite
pickled
piquant
plain
pleasant
Plummy
plump
poached
popular
pounded
prepared
prickly
pulpy
pungent
pureed
rancid
rank
reduced
refresh
rich
ripe
roasted
robust
rotten
rubbery
Runny
saccharine
saline
salty
Sapid
saporific
saporous
satin
satiny
sauteed
savorless
savory
scrumptious
sea salt
seared
seasoned
served in
served with
sharp
sharp-tasting
silky
simmered
sizzling
skillfully
small
smelly
smoked
smoky
smooth
smothered
Soft
soothing
sour
Southern style
special
spiced
spicy
spiral-cut
spongy
sprinkled
stale
steamed
steamy
sticky
stinging
strawberry flavored
strong
stuffed
succulent
sugar coated
sugar free
sugared
sugarless
sugary
superb
sweet
sweet-and-sour
sweetened
syrupy
Tang
tangy
tantalizing
tart
tasteful
tasteless
tasty
tender
tepid
terrific
thick
thin
toasted
toothsome
topped
tossed
tough
traditional
treacly
treat
unflavored
unsavory
unseasoned
vanilla
vanilla flavored
velvety
Very good
vinegary
warm
waxy
weak
whipped
whole
wonderful
Yeasty
yucky
yummy
zesty
zingy
Also read: Animals That Live in the Desert
Food Adjectives to Describe Taste
The taste that your foods provide is the thing people are most interested in when they decide what they'll eat. How you design the menu will aid in building suspense, and a well-written description of the menu could persuade a skeptical customer to take a risk and try something different. In this regard, it's crucial to be precise when choosing the right words to describe the taste of your food.
Here are some adjectives that are used commonly to describe food items:
Acidic: A food with a sharp in taste.
Bitter: A food with harsh flavor.
Bittersweet: A less harsh taste than bitterness, sweet plus bitter.
Briny: Word for salty foods.
Citrusy: A bright flavor like that of limes, lemons, oranges.
Cooling: A taste that gives the feeling of cold temperature.
Earthy: Often used to describe red wines, root vegetables, and mushrooms.
Fiery: Another word for spicy.
Fresh: A light and crisp taste.
Fruity: Any taste full of sweet fruit flavors.
Full-bodied: Rich flavor that can feel heavy in the mouth and stomach.
Herbal: A bright, fresh, or earthy taste created by the herbs.
Honeyed: A sweet taste like honey.
Nutty: Taste similar to the flavors of nuts.
Rich: A full, heavy flavor
Robust: A rich taste with some earthiness.
Sharp: A harsh, bitter, or tart taste. Often used for acidic foods.
Smoky: A smoky taste that is similar to smell of smoke. 
Sour: A biting, tangy, tart taste.
Spicy: Full of spices food, urning taste from hot spices.
Sweet: A sugary flavor.
Tangy: A tart, taste that feels tingly in the mouth.
Tart: A sharp, bitter, or sour flavor. Often used for acidic foods.
Yeasty: An earthy taste similar to yeast.
Woody: A nutty taste.
Zesty: A vivid, fresh, or invigorating flavor.
Food Adjectives to Describe Texture
Another characteristic to consider when describing the food is the texture. Using food adjectives correctly for describing mouthfeel will allow your customers to imagine what it would be like to taste the food before ordering it.
ALSO READ: Basic Atomic Structure Worksheet
Here are a few words that are frequently used to describe the food texture:
Airy: A light, pillowy texture often created by blending air.
Buttery: A soft and creamy texture similar to that of soft butter.
Chewy: The texture of a food must be chewed thoroughly before swallowing. It can be light and bouncy or heavy and sticky.
Creamy: A smooth and rich texture that usually comes from containing dairy.
Crispy: A light texture with a petite crunch.
Crumbly: Food texture with a flexible structure falls apart into small pieces or crumbs.
Crunchy: A firm, crisp texture often identified by the sharp, audible noise the food makes when swallowed.
Crusty: Food texture with a tough outer layer and soft interior.
Delicate: A light, fine texture that may come apart smoothly.
Doughy: A soft and heavy texture often coupled with pale color.
Fizzy: A texture brought on by the presence of many small driblets, usually referring to carbonated liquids.
Flaky: A light texture described by coatings that come apart during eating.
Fluffy: A light and airy texture.
Gooey: A dense solid food texture.
Hearty: A firm, concentrated texture.
Juicy: A tender texture represented by the existence of liquid in solid food.
Silky: A fine, smooth texture described by a smart feel in the mouth.
Sticky: A texture represented by gluiness in the mouth.
Smooth: A consistent texture free of grit, lumps, or indentations.
Succulent: A juicy, tender texture.
Tender: A smooth texture that is easy to the crack down.
Velvety: A soft and rich texture.
Food Adjectives to Describe Food Preparation Method
One of the most effective ways to describe the food you serve that you offer on the menu is to mention the preparation method. As long as your client understands the terms, selecting them will provide an accurate picture of the food's taste and appearance.
ALSO READ: Types of Chemical Reactions Worksheet
Here are some terms that define the preparation for cooking and food preparation:
Baked: Food cooked in an oven.
Blanched: A scalded food in boiling water and then transferred to cold water to stop cooking.
Blackened: A food dipped in butter and smudged with spices before being cooked in a hot pan, resulting in a blackened build.
Braised: Food briefly fried in a small amount of fat and then slowly stewed in a covered pot.
Breaded: A breaded food is coated with a breadcrumb mixture or batter that is then baked or fried into a crispy outer layer.
Broiled: Food cooked with intense bright heat, like an oven or grill. Often results in a shaded impression and crispy texture.
Caramelized: A caramelized food has been cooked gradually until it is browned and becomes sweeter.
Charred: Food that is grilled, roasted, or broiled and achieves a blackened exterior associated with a smoky flavor.
Fermented: A food that has been presented to bacteria, yeast, or another microorganism to produce organic acids, alcohols, or gases. It May result in a zingy, biting flavor.
Fried: Food cooked by dipping partially or fully into the burning oil. Often results in a crispy or crunchy texture and yellow color.
Glazed: A food that becomes wetted by having a flavorful layer dripped or brushed onto its surface. May result in a shiny formation and thin, crisp outer coating.
Infused: A food that has been soaked in liquid with another component to extract the flavor of the ingredient. Often used with spices.
Marinated: A food (meat) that has been bathed in a liquid having flavorful components like herbs, spices, vinegar, and oil.
Poached: Food that has been cooked in nearly boiling liquid. Often results in a delicate texture.
Roasted: Food that has been cooked with dehydrated heat in a cookstove or over a fire.
Sauteed: A meal that has been cooked quickly in a small amount of fat.
Seared: A food boiled in a small amount of fat until caramelized and then finished by roasting, grilling, or another way. Results in a crisp outer texture and tender interior.
Smoked: Smoked food is food that is cooked or preserved by long exposure to smoke from smoking wood. Results in a distinctive, aggressive flavor.
Whipped: Food that has been whipped to include air. Often results in a light, smooth texture.
Positive Food Adjectives
The most effective way to influence your customers to pass over a particular menu item is to choose a word that has negative connotations. Before you use the word "restaurant" in your menu's description, consider the way that word is used in the context. Does it create images of positive things to mind, or does it appear undesirable? Furthermore, positive alternatives to negative terms tend to be more specific, which means they provide your customers a better impression of what your food will taste similar too.
Here are a few examples of negative describing words and positive food adjectives you can substitute for these words:
Tough vs hearty: A piece of tough bread compared to a piece of hearty bread
Mushy vs tender: A mushy crabcake compared to a tender crabcake
Dry vs crispy: Chicken with a dry breading resembles chicken with a crispy breading.
Greasy vs velvety: Pasta in a greasy sauce than pasta in a velvety gravy.
Sugary vs honeyed: Pears with sugary precipitation than pears with a honeyed shower.
Burned vs blackened: Burned salmon compared to shadowed salmon
ALSO READ: Angles in a Triangle Worksheet
Coordinate Adjectives InfoGraphics
Here are some printable infographics about Coordinate Adjectives. Printable infographics are a fantastic way to share a significant amount of details in a short time in a stunning way. The Coordinates Adjective infographic can help teachers and students to share their thoughts easily.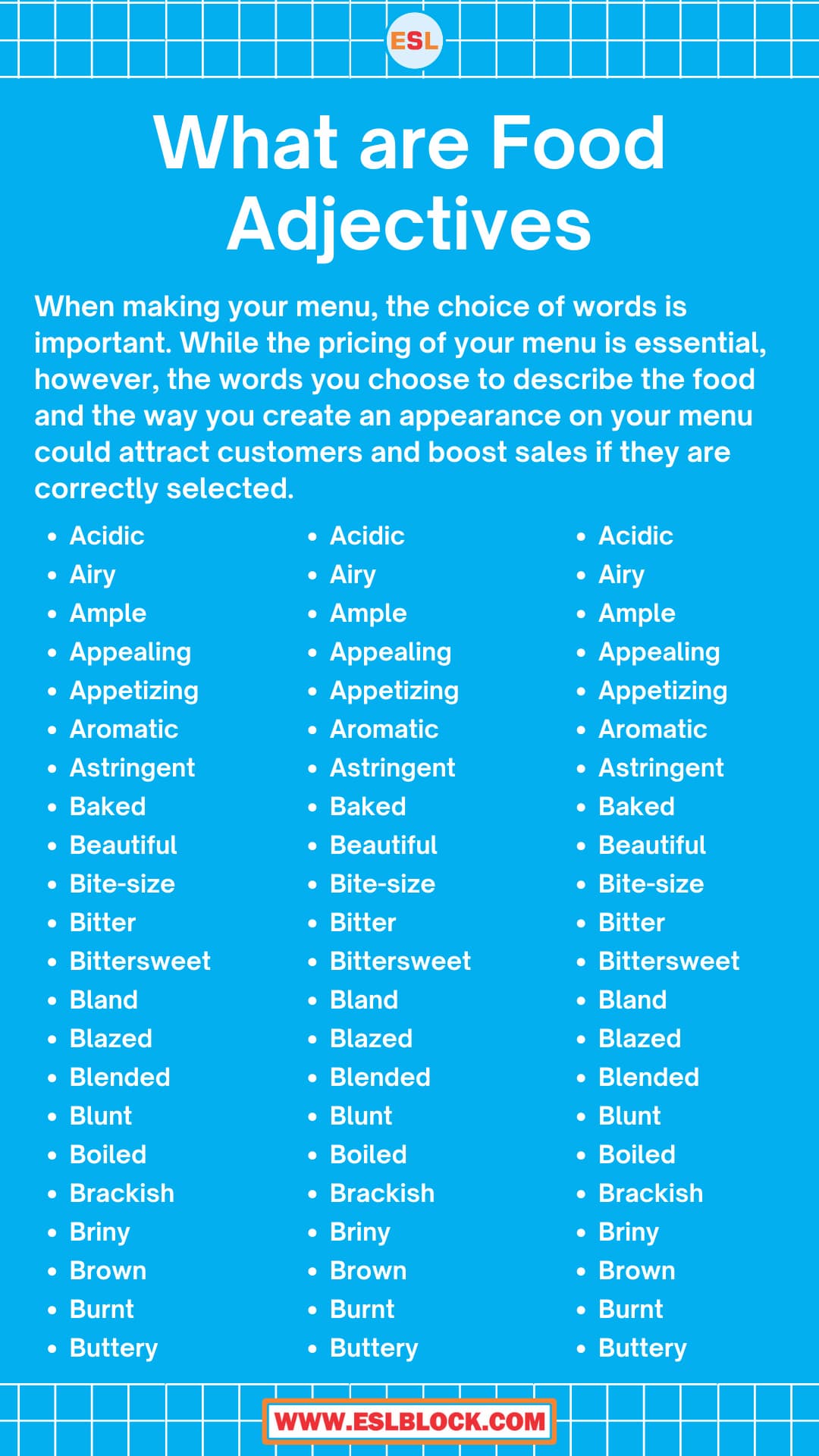 My Considerations
If you're looking for the appropriate terms to explain the dishes you've put on your menu, look through the countless options you can choose from. Make sure to choose attractive enough words to draw a customer's interest, simple enough to describe your food quickly, and specific enough to ensure that you don't have to use common phrases.
If you decide to introduce the latest dish or plan to change your food menu, keep in your mind how much time and effort you spend on the descriptions of your menus will help you sell your food to your customers.
With this set of activities and explanations, you will quickly determine whether you are making the most effective use of the food adjectives and how they could be used to describe the foods in the menu.
Since the Adjective is the main part of English reading, the importance of developing vocabulary cannot be undervalued without food Adjectives.
You can read the above simple list of food Adjectives to improve your understanding of English grammar.
Encourage your children to learn these basic but commonly used food Adjective, by following the simple example sentences given above. Then, save this list of food Adjectives, handy for job interview use.
If you enjoyed a printable infographic about Food Adjectives, I'd be very thankful if you'd help it spread by emailing it to your friends or sharing it on Pinterest, Reddit, Twitter, Instagram, or Facebook. Thank you!
Also read: Adjectives That Start With Y
Recap of what we just learned
What are Food Adjectives?
List of Food Adjectives
Food Adjectives to Describe Taste
Food Adjectives to Describe Texture
Food Adjectives to Describe Food Preparation Method
Positive Food Adjectives
Food Adjectives InfoGraphics
With ESLBLOCK, you will not face problems studying new ideas. If you are in doubt about the qualities of Food Adjectives, reach us through our blog's comment section. Keep checking back! We'll attempt to give you feedback as early as possible. Thank you!
Also read: Adjectives That Start With Z
Related Topics
Explore the full list of Adjectives to Describe a Person from A to Z!