What is the list of farm animals in English Vocabulary? In this article, I am going to provide you a list of famous types of farm animals!
There are many different farm animals in the world, each with its unique appearance and personality. Some popular farm animals include the sheep, cows and horses.
Each farm animal has distinct physical features, making them easy to identify. For example, horses are known for their high speed faithfulness.
Goats are excellent farm animals. They are easy to maintain and can be raised to produce milk, meat and mohair.
All these farm animals are verified, using acknowledged sources for their genuineness before being enlisted. Source: Your Info Master.
Read also: Types of Sentences Worksheets
What is a Farm Animal?
Farm animals are raised and kept for agricultural purposes. They include pigs, chickens, cows, geese and more.
Let's see different farm animals around the globe!
Types of Farm Animals
Birds
Cattle
Domestic Animals
Large Animals
Pigs
Mammals
Small animals
Wild Animals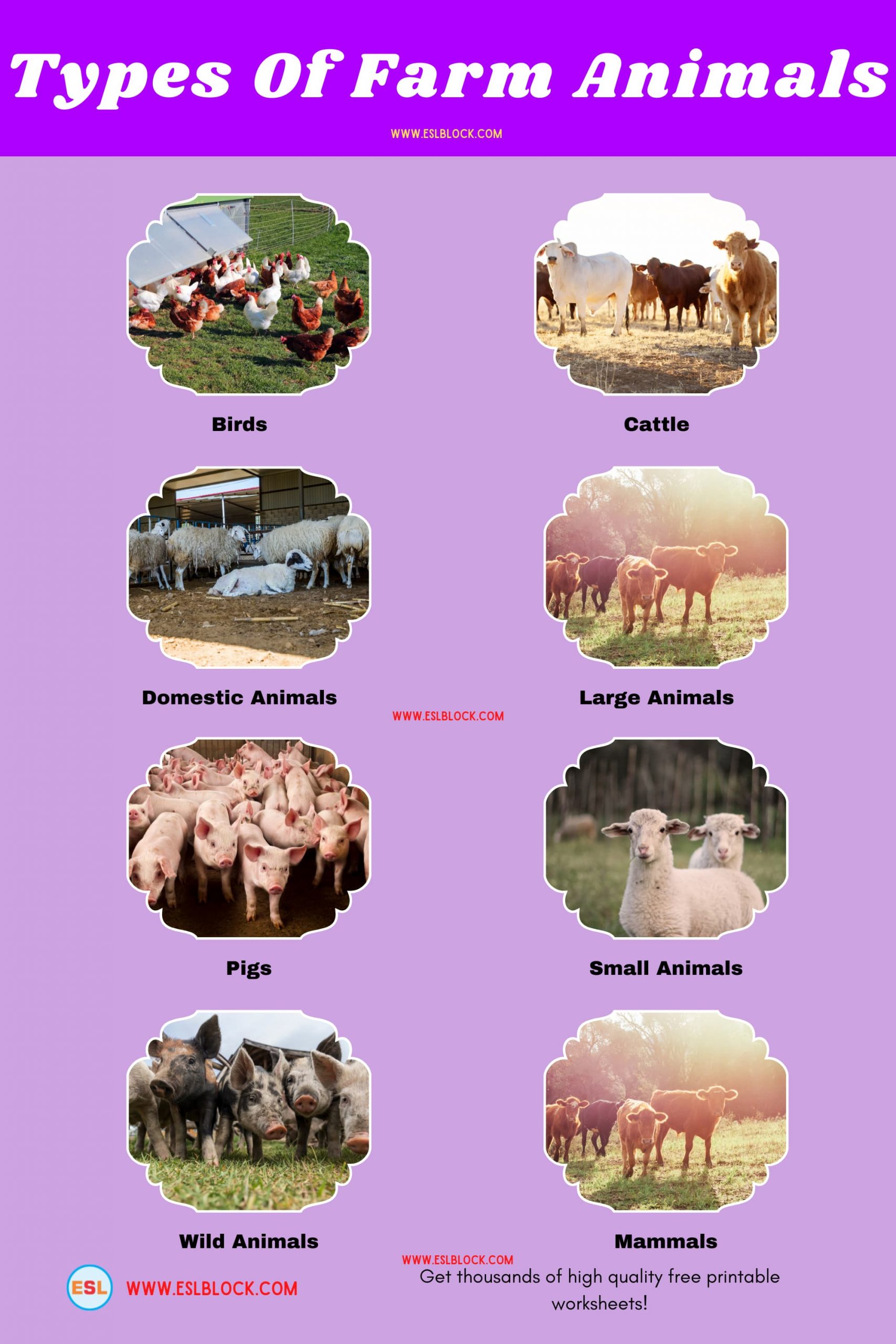 Also Check: 12 Verb Tenses Worksheets
Categories Of Farm Animals
Birds:
Chickens are a popular livestock choice for farmers of all sizes. They can be integrated into any food landscape. There are many breeds to choose from, and they are affordable for everyone.
You can use chickens to control natural pests and weeds or provide food for your family.
Broiler
Chicken
Columbidae
Domestic Turkey
Ducks
Goose
Guineafowls
Helmeted Guineafowl
Jungle Fowl
Pheasant
Squab
Cattle:
Cattle are raised for their meat (beef, veal, and suckling), and hides are used to create leather. They can be used as draft or riding animals (oxen and bullocks that pull carts and other implements).
Aurochs
Bali Cattle
Banteng
Beef Cattle
Bull
Calf
Camels
Dairy Cow
Gaur
Heifer
Water Buffalo
Yak
Zebu
Domestic Animals:
Domesticated animals can be divided into two categories: those used as farm animals or livestock (animals raised to make commodities) and those used as farm animals.
Cattle, sheep, and pigs are all considered farm animals.
Angus
Ayrshire
Brahman
Brown Swiss
Charolais
Guernsey
Hereford
Holstein-Friesian
Jersey
Murray Grey
Santa Gertrudis
Shorthorn
Mammals:
Animals that are used for agriculture are called farm animals. These animals include chickens, cows, pigs, geese, and many others.
Cattle
Alpacas
Cattle
Chickens
Fish
Goats
Llamas
Pigs
Pigs,
Poultry
Rabbits
Sheep
Snails
List of Some Common Farm Animals
Here are different examples of farm animals in English that will encourage your English Vocabulary.
It is a fact that there are too many lovely farm animals; it is challenging to choose to include them in the list.
There are many different types of farm animals, and each farm animal has its own unique set of characteristics. Some farm animals are small and cute, while others are big and muscular.
The following list of common 50 farm animal types, is for you. All these farm animals are validated using recognized world dictionaries and encyclopedias.
Alpaca
Bali Cattle
Banteng
Bee
Beef Cattle
Beefalo
Broiler
Bull
Calf
Camel
Chick
Chicken
Cow
Dairy Cattle
Domestic Goose
Domestic Guineafowl
Domestic Turkey
Domestic Water Buffalo
Donkey
Dromedary
Duck
Duckling
Dzo
Emu
Gayal
Goat
Goose
Grey Francolin
Guinea Pig
Herdwick
Horse
Icelandic Sheep
Llama
Mammals
Mangalica
Mouse
Mule
Ostrich
Pig
Quail
Rabbit
Rheas
Rooster
Sheep
Silkworm
Yak
Zebu
Żubroń
How do I choose my Farm Animal?
Although there are many farm animals, it does not mean you should have less time to consider the options when choosing which one to adopt. Different species have different characteristics and may suit your lifestyle better than others.
Some species require a lot more care than others. And some farm animals will vocalize until their upstairs neighbors are tired of it. Make sure to choose wisely.
Farm animals can also be long-term companions and if properly cared for, can live up to many years. Like all animals, farm animals are time-consuming and a significant financial commitment.
People searching for a particular farm animal to suit their lifestyle will find it more helpful to choose a specific species. For example, a goat is used to get milk from it.
If you're looking for a particular farm animal , you can use above sheets to help you. However, remember that farm animals are individual, and each farm animal is unique!
After you have chosen your farm animal, bring it home and cherish its presence in your life.
Images Of 10 Famous And Cute Farm Animals
BULLS
These animals are essential in beef ranching, dairy farming, and a range of cultural and sporting activities like bull riding and bullfighting.
Their monetary value is also part of their use in herd management.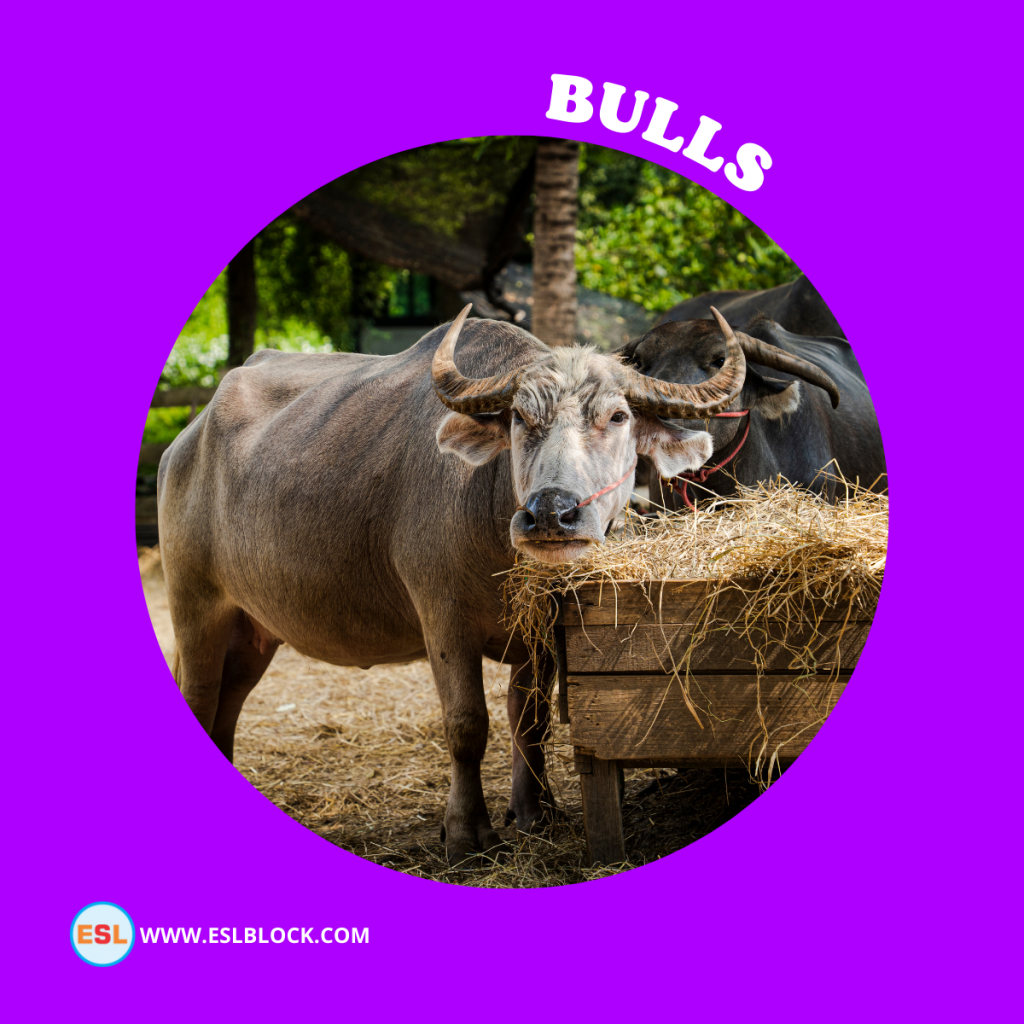 CAMELS
Camels have been domesticated for hundreds of years and are vital to desert life. They provide food, fiber, and leather.
They're well-suited to the heat and dry conditions of the desert. In addition to these essential ingredients, camels can survive in most environments except cold climates.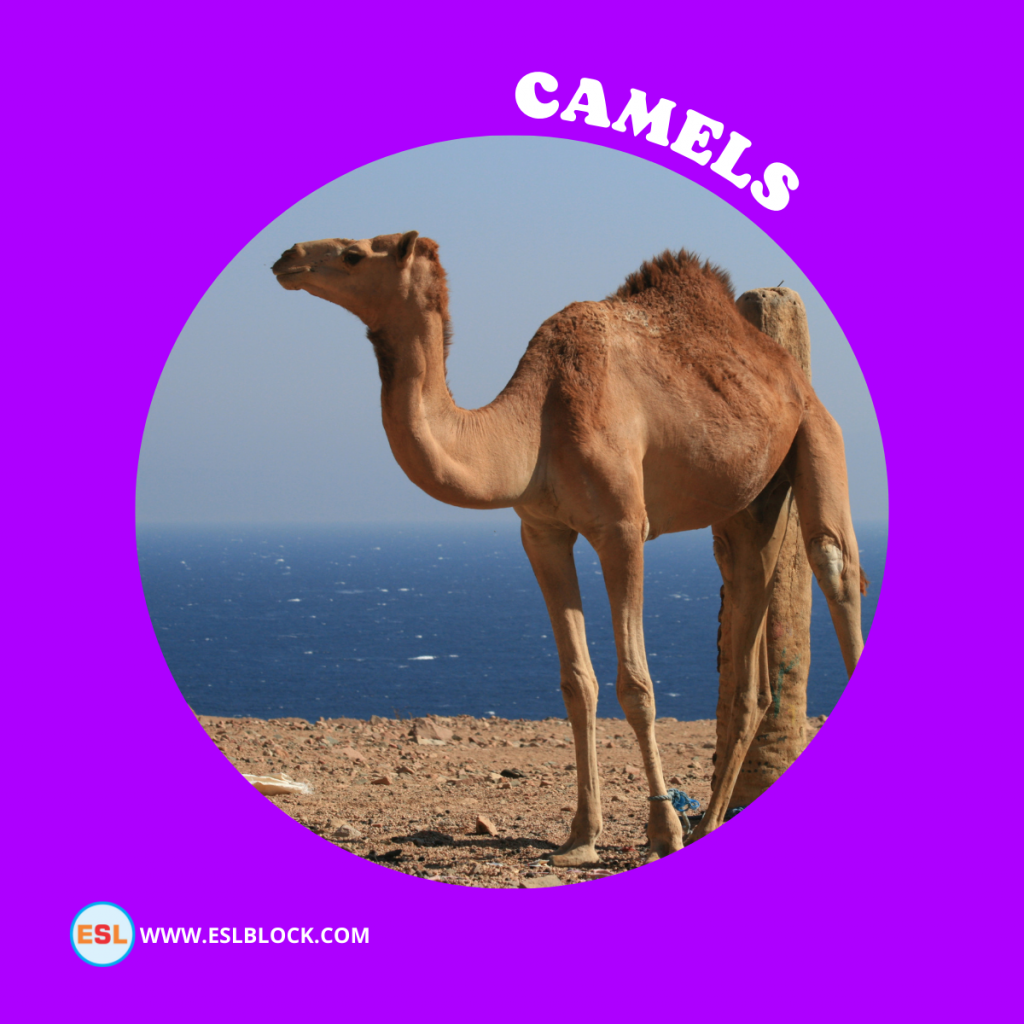 BUFFALO
Buffalos are a common farm animal in the United States. They're used for the production of milk, meat, and fiber. They're also used to help create transportation.
There are many different types of buffalos with various uses. Some are primarily used for milk production or eating, while others can be used for transportation.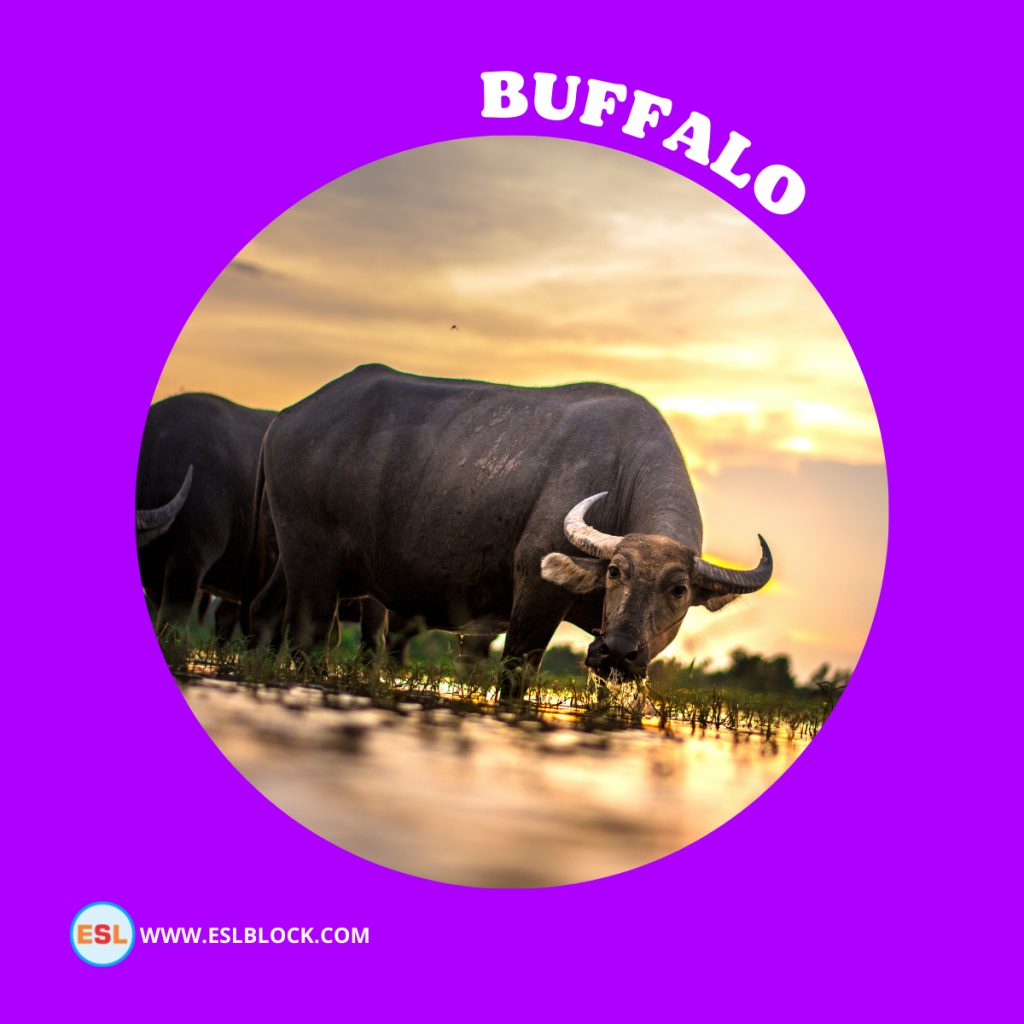 DONKEY
At some point, donkeys were used as pack animals in agriculture. Nowadays, donkeys are often considered farm animals.
In some cases, they act as guardians for livestock or companions for horses.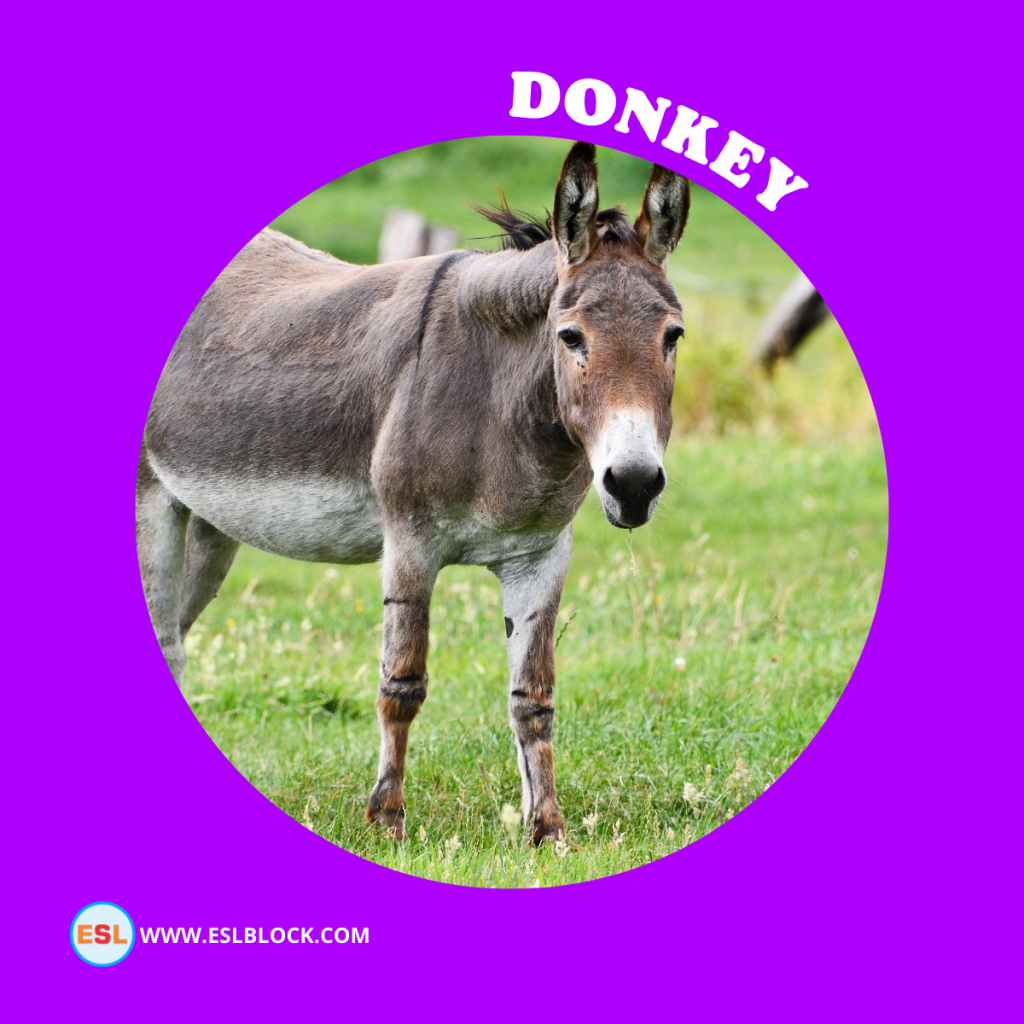 DUCK
They are not suited for indoor life. While it might make you happy to keep your duck indoors, you should understand that this is cruel to them as they require outdoor living.
Ducks are social animals and get along well with one another. They rarely fight.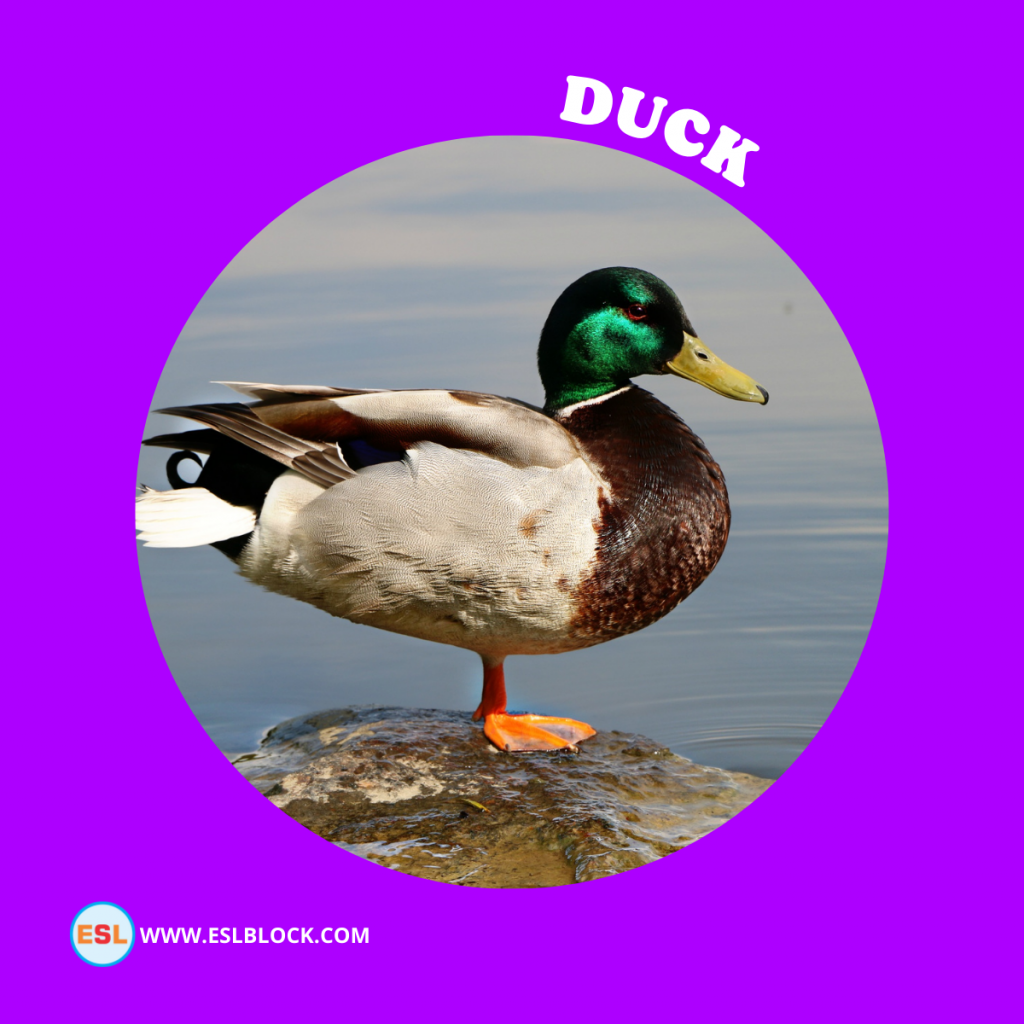 COW
Although cows are adorable and possess more personality than most people realize , caring for them is not an easy task. Although they don't have many tedious tasks, cows are strong, large creatures that need shelter and food to survive.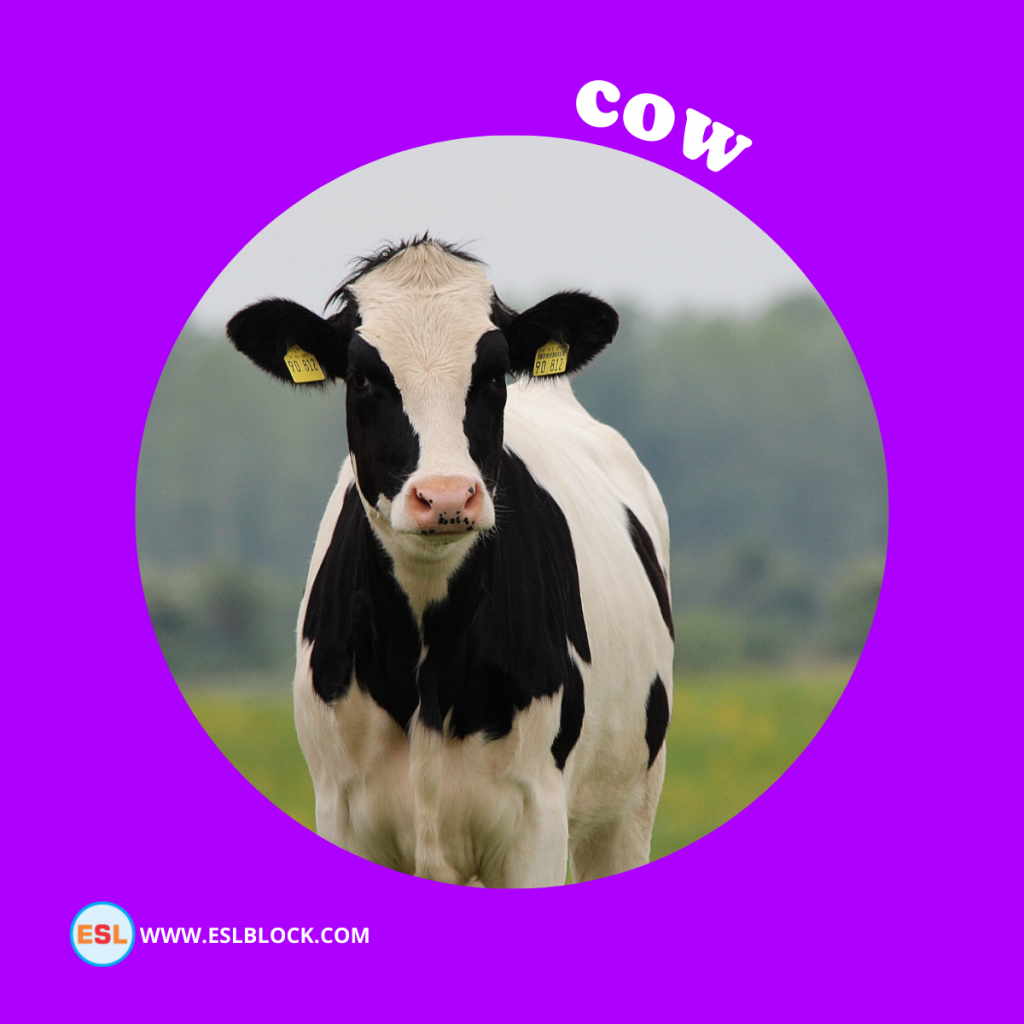 OSTRICH
Ostriches are an agricultural investment that is well worth it compared to other farm animals. They're farm-friendly and don't require much care on the farmer's end.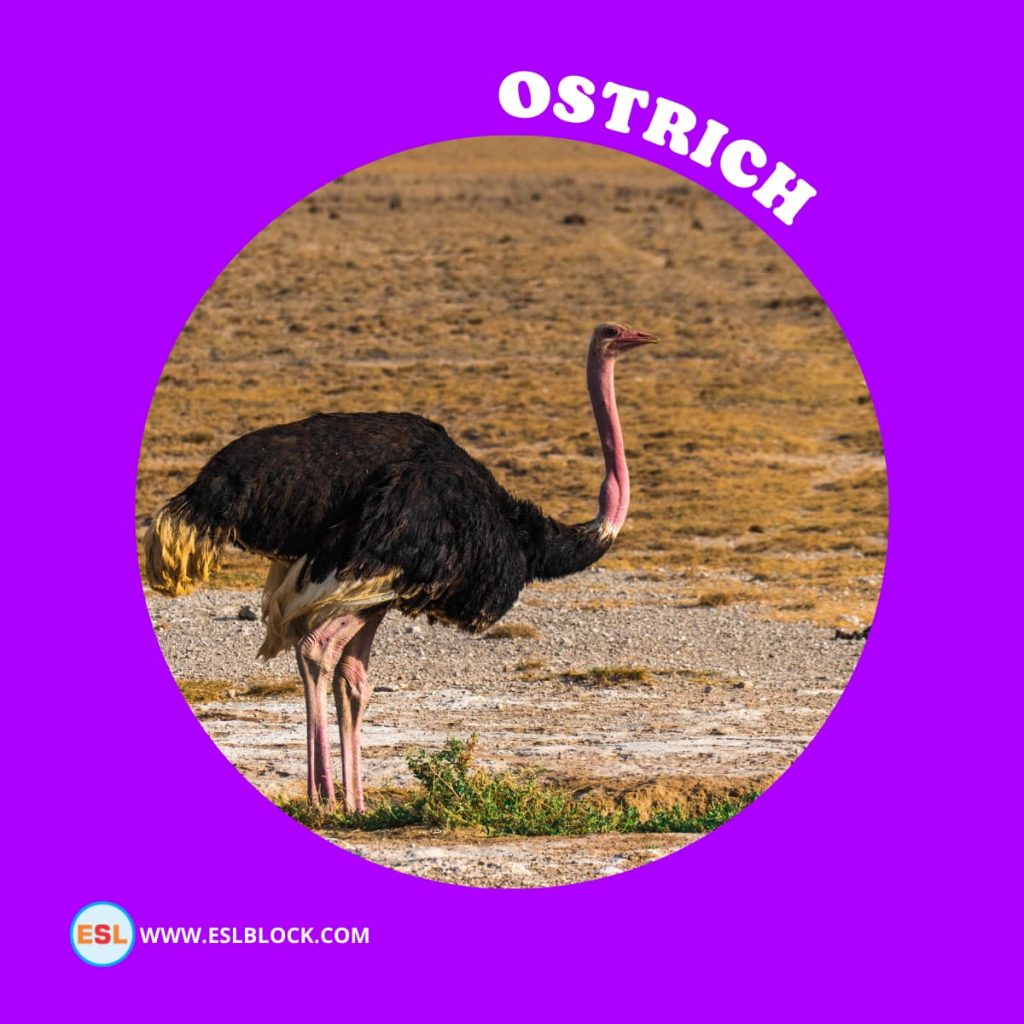 CHICKEN
Chickens make great farm birds. They are quiet and easy to care for. They'll usually provide you with many eggs, and you can be sure they are well-treated.
Chickens require a particular housing arrangement and plenty of space.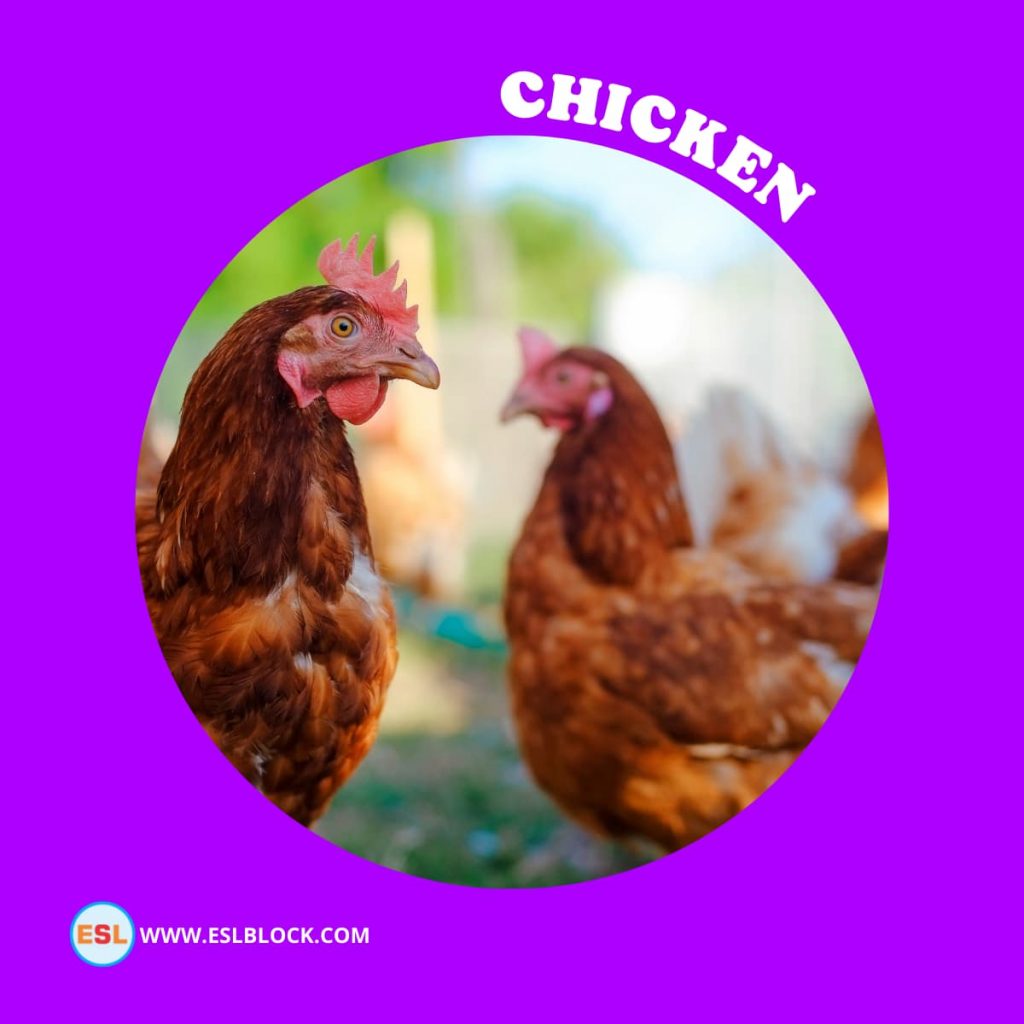 PIG
Pigs are a popular form of livestock, with more than one billion pigs butchered worldwide each year.
Most pigs are used for food, although they are also utilized in various applications, including clothing and cosmetics.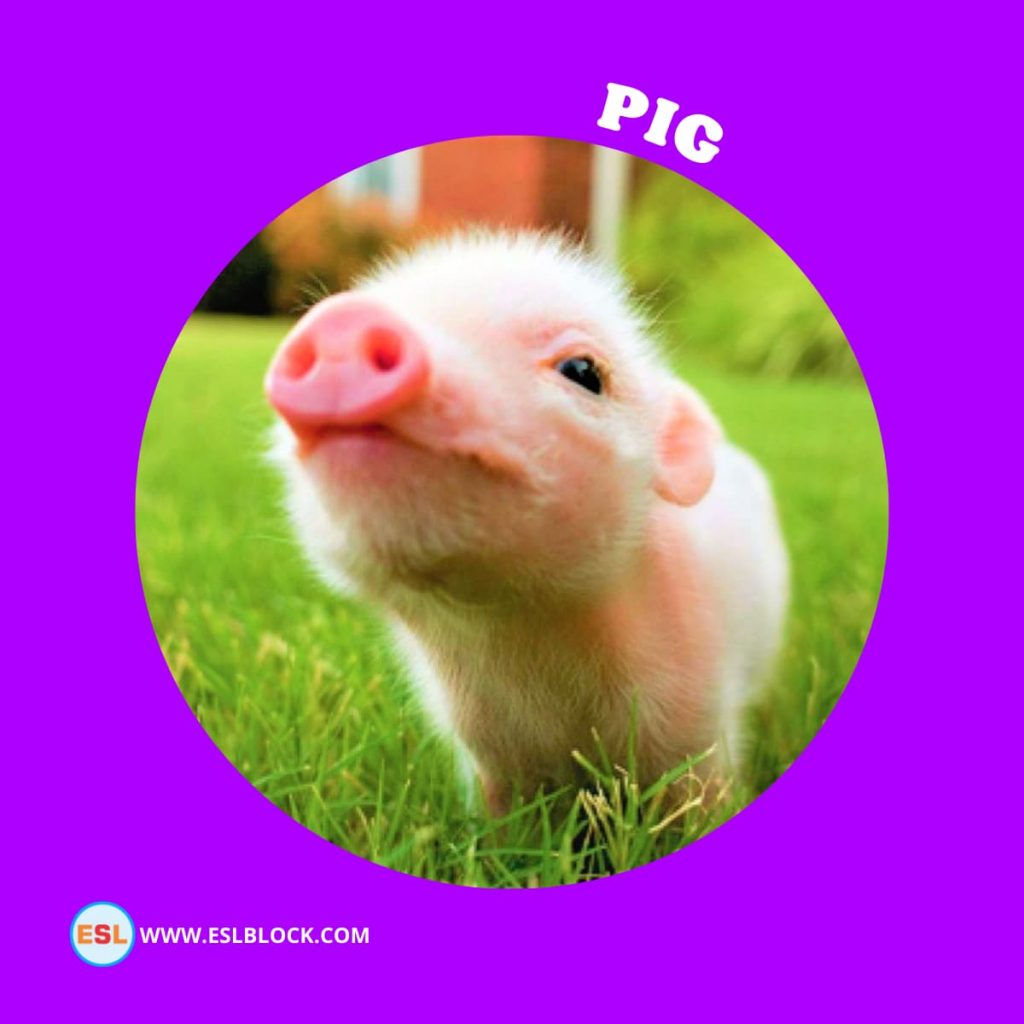 HORSE
Although they may appear harsh and large, horses have a heart of gold. They also enjoy an active, healthy lifestyle outdoors.
Horses make wonderful companions and encourage owners to spend more time outdoors, away from stress.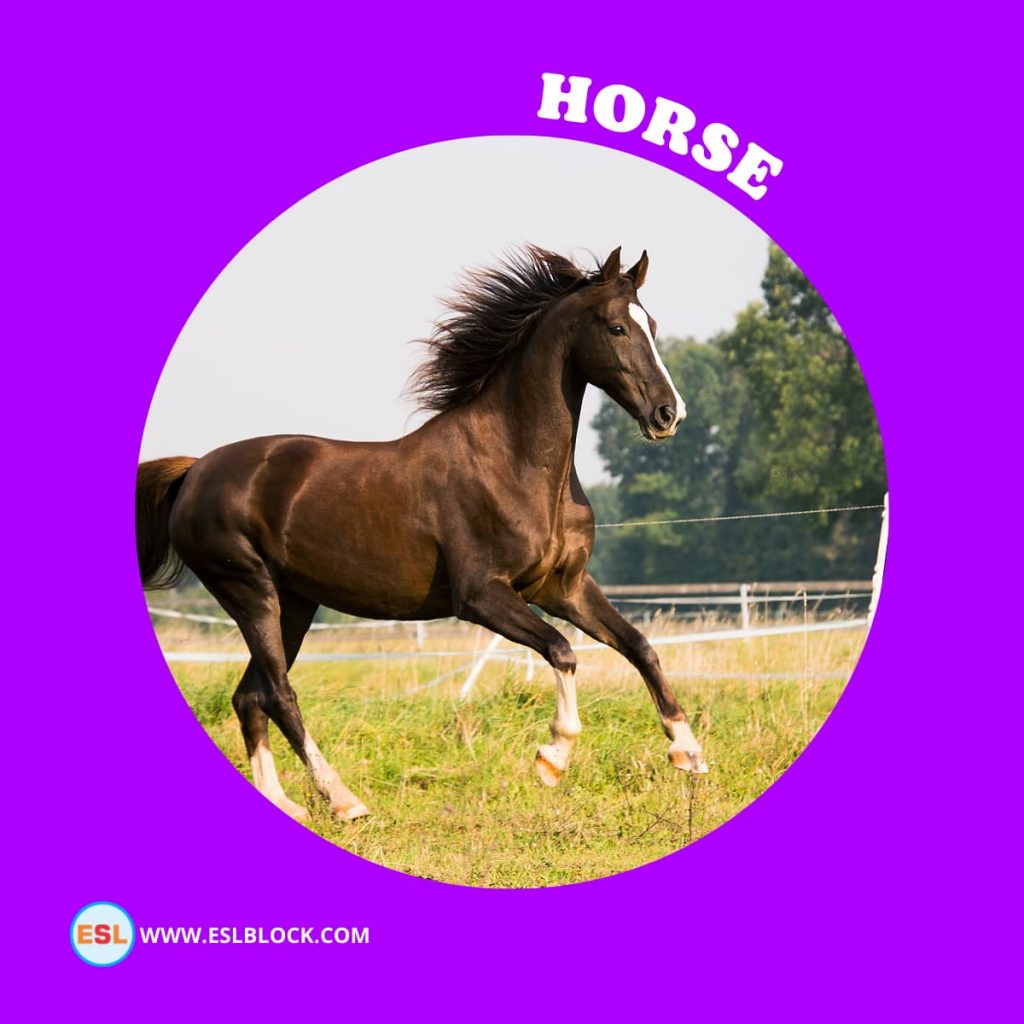 Farm Animals| Info Graphics
The farm animals infographic can help educators and learners share their thoughts. Infographics are one of the most effective ways to communicate information engagingly effectively. They are helpful for both print and the website.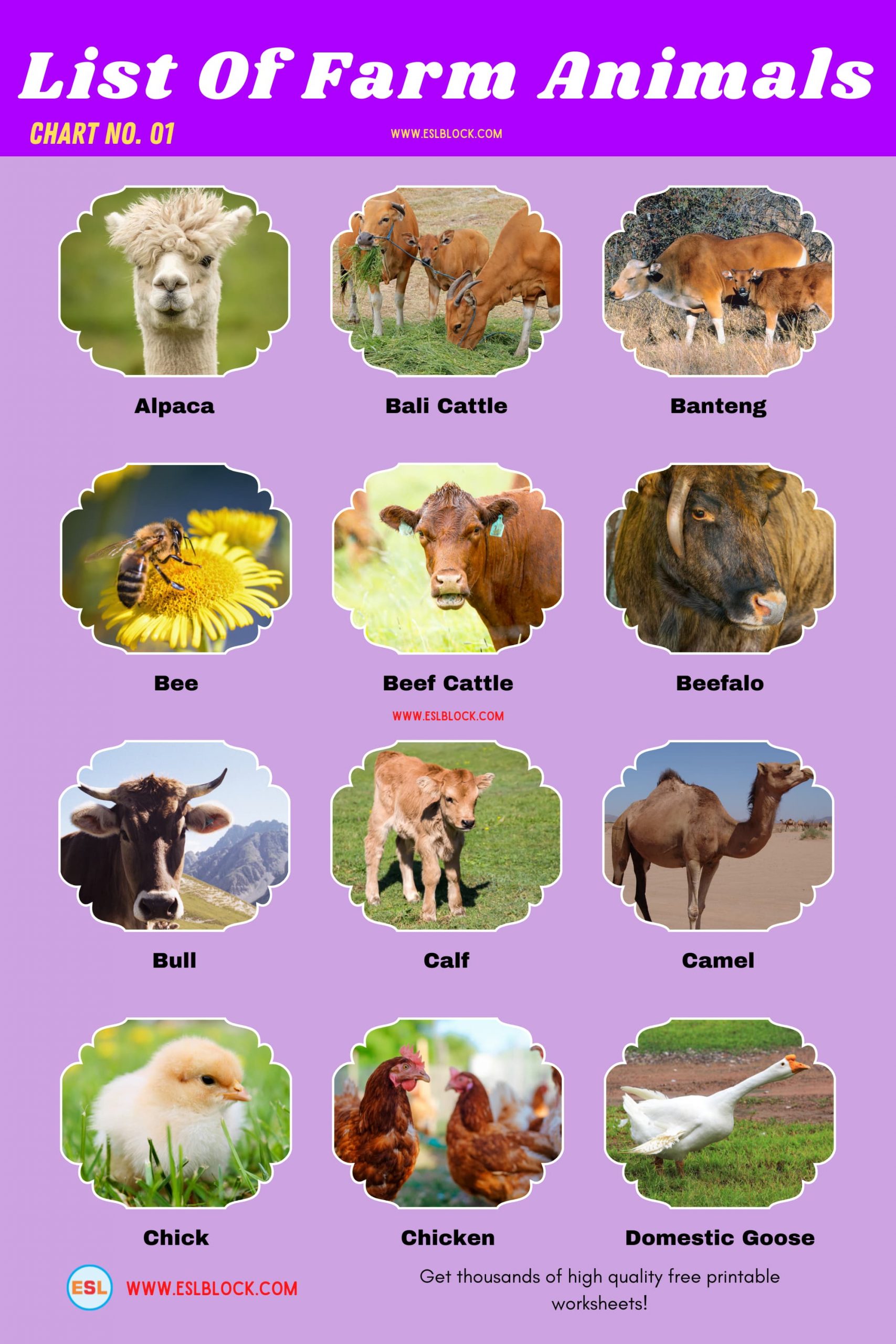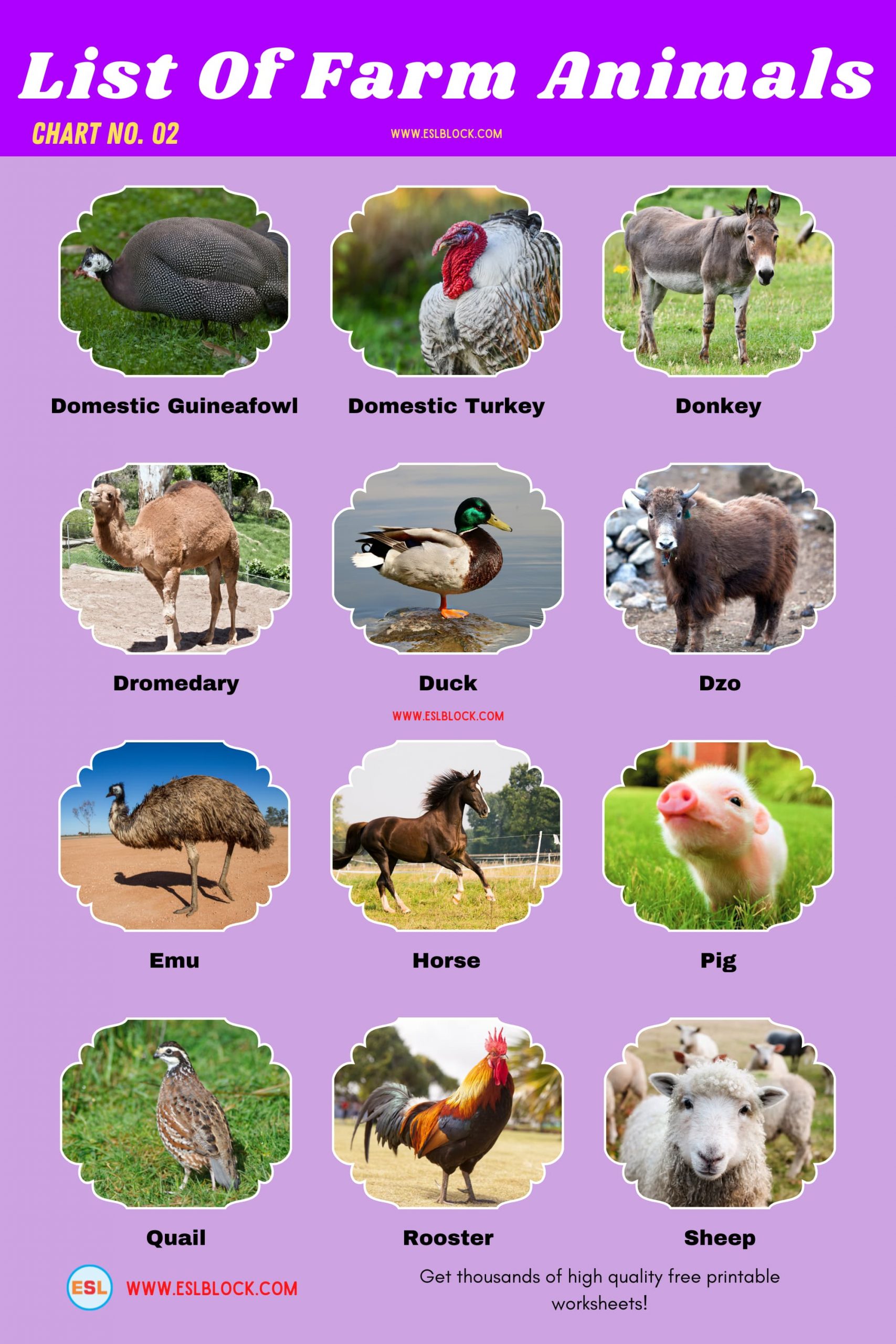 Conclusion
If you have enjoyed "List of farm animals, "I would be very thankful if you'd help spread it by emailing it to your friends or sharing it on Twitter, Instagram, Pinterest, or Facebook. Thank you!
With ESLBLOCK, you will study with new ideas. If you doubt the qualities of List of farm animals, reach us through our blog's comment section. Keep checking back! We'll do our best to give you feedback as soon as possible. Thank you!
Also Read: Sentence Structures Worksheets
Recap of what we just learned
Farm animals: Different Types of farm animals
What are Farm animals?
Why do farm animals matter to farm animals owners?
How do I choose my farm animals?
Farm Animals Facts
Which farm traits should one consider?
Most Popular farm animals
Different Types of farm animals with Facts and Pictures
Farm animals | Info Graphics
Related Articles
Here are some more lists for you!