What are names of animals that start with L in English vocabulary? In this article, I will provide a comprehensive list of animals starting with L.
All these animals starting with the letter L are verified, using acknowledged sources for their genuineness before being enlisted. Source: Your Info Master.
Read also: Types of Sentences Worksheets
Animals That Start With L are for students at the grade 1 to grade 10. Here is a range of the L animals names that will assist students. I hope this will help!
Here are four letter animals starting with L, five letter animals that start with L, six letter animals starting with L, seven letter animals starting with L, and eight letter animals that start with L in English, arranged in alphabetical order, which helps students correctly understand the L animals names.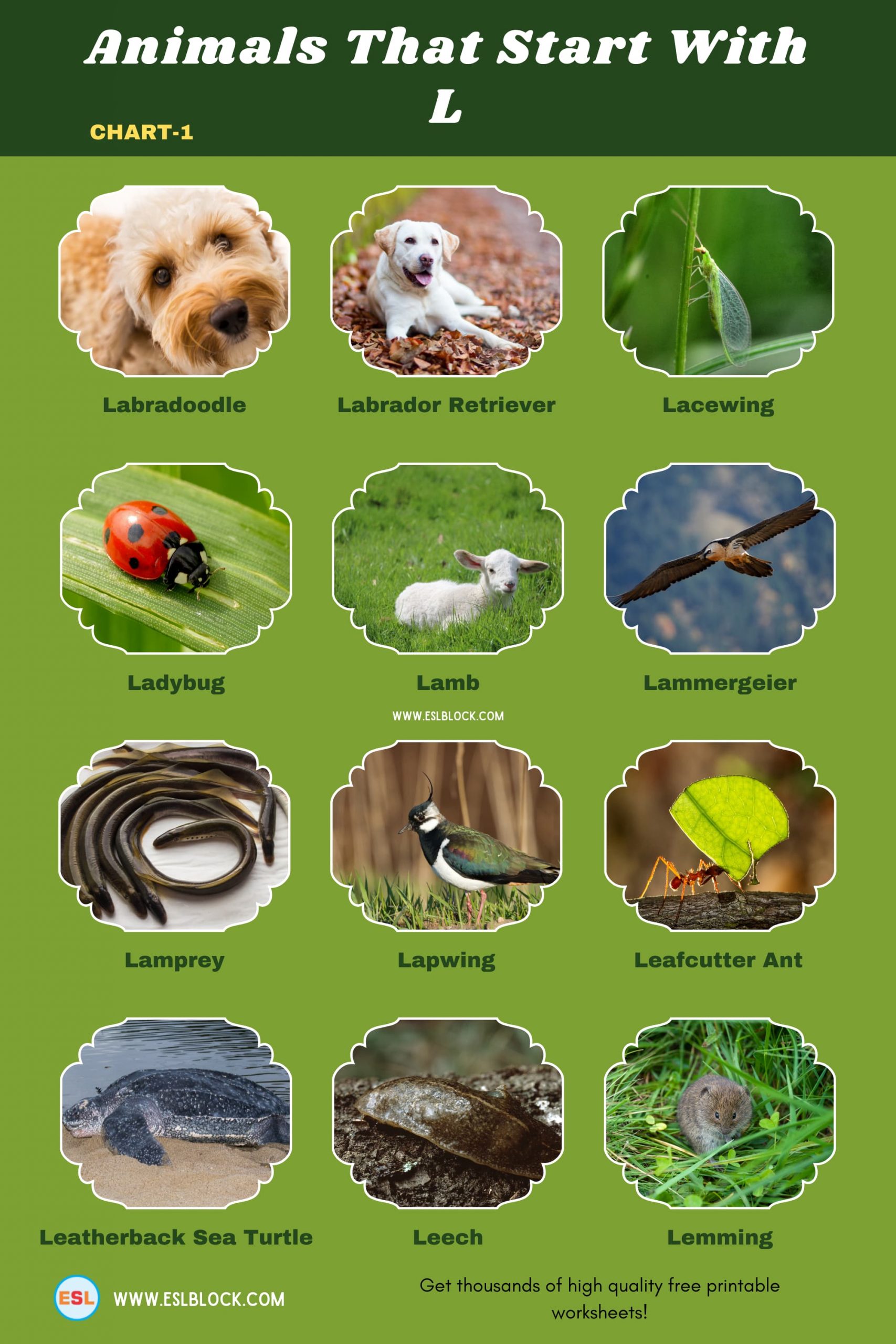 Virtually everyone living on earth has their favorite animals that start with L. But there are many L starting animals you may have never heard of!
Also Check: 12 Verb Tenses Worksheets
Animals That Start With L List
Here are animals that start with L in English that will encourage your English Vocabulary.
It is a fact that there are too many lovely animals that start with L; it is challenging to choose to include them in the list.
The following list of over over 200 animals names that start with L, is for you. All these L animals are validated using recognized world dictionaries.
Labradoodle
Labrador Retriever
Labridae
Labyrinthodont
Labyrinthodonta
Labyrinthodontia
Lacerta
Lacertid
Lacertidae
Lacertilia
Lacewing
Lachnolaimus
Lactobacillaceae
Lactobacillus
Lactobacteriaceae
Lactophrys
Ladybeetle
Ladybird
Ladybug
Ladyfish
Lagidium
Lagodon
Lagomorph
Lagomorpha
Lagopus
Lagorchestes
Lagostomus
Lagothrix
Lama
Lamb
Lambis
Lambkin
Lamellibranch
Lamellibranchia
Lamellicornia
Laminaria
Laminariaceae
Laminariales
Lammergeier
Lammergeyer
Lamna
Lamnidae
Lamprey
Lampridae
Lampris
Lampropeltis
Lampshell
Lampyridae
Lancelet
Lancetfish
Langouste
Langur
Laniidae
Lanius
Lanternfish
Lanthanotidae
Lanthanotus
Lapdog
Lapin
Lappet
Lapwing
Largemouth
Lari
Laricariidae
Larid
Laridae
Lark
Larus
Larva
Larvacea
Larvacean
Lasiocampa
Lasiocampid
Lasiocampidae
Lasiurus
Lates
Latimeria
Latimeridae
Latinae
Latrodectus
Launce
Laver
Layer
Leafcutter Ant
Leafhopper
Leaf-Tailed Gecko
Leatherback
Leatherback Sea Turtle
Leatherfish
Leatherjack
Leatherjacket
Lebistes
Lechwe
Leech
Legionella
Leiopelma
Leiopelmatidae
Leipoa
Leishmania
Lemming
Lemmus
Lemur
Lemuridae
Lemuroidea
Leonberg
Leoncita
Leontocebus
Leopard
Leopard Cat
Leopard Seal
Leopard Tortoise
Leopardess
Lepadidae
Lepas
Lepidochelys
Lepidocybium
Lepidoptera
Lepidopteran
Lepidopteron
Lepidosauria
Lepisma
Lepismatidae
Lepisosteidae
Lepisosteus
Lepomis
Leporid
Leporidae
Leporide
Leppy
Leptinotarsa
Leptocephalus
Leptodactylid
Leptodactylidae
Leptodactylus
Leptoglossus
Leptoptilus
Leptospira
Leptotyphlopidae
Leptotyphlops
Lepus
Lerot
Leuciscus
Leucocytozoan
Leucocytozoon
Leveret
Lhasa
Lichanura
Liger
Limacidae
Limanda
Limax
Limenitis
Limicolae
Limnocryptes
Limnodromus
Limosa
Limpet
Limpkin
Limulidae
Limulus
Lincoln
Ling
Lingcod
Linnet
Lintwhite
Liomys
Lion
Lioness
Lionet
Lionfish
Liopelma
Liopelmidae
Lip
Liparidae
Liparididae
Liparis
Lipizzan
Liposcelis
Lipotyphla
Lippizan
Lippizaner
Listeria
Lithodidae
Litocranius
Little Penguin
Littleneck
Littorina
Littorinidae
Livestock
Liza
Lizard
Lizardfish
Llama
Loach
Lobata
Lobefin
Lobipes
Lobotes
Lobotidae
Lobster
Lobworm
Locust
Locusta
Locustidae
Lofortyx
Loggerhead
Loin
Loir
Loligo
Long-Eared Owl
Longhorn
Longicorn
Longlegs
Longspur
Long-Tailed Tit
Longwool
Lookdown
Loon
Looper
Lophiidae
Lophius
Lophodytes
Lopholatilus
Lophophorus
Lorica
Loricata
Loriinae
Lorikeet
Loris
Lorisidae
Lory
Lota
Lotte
Louse
Louvar
Lovebird
Lowan
Loxia
Loxodonta
Loxostege
Lucanidae
Lucilia
Lucy
Lufengpithecus
Lug
Lugworm
Lumpenus
Lumpfish
Lumpsucker
Lunda
Lungfish
Luscinia
Lutjanidae
Lutjanus
Lutra
Lutrinae
Luvaridae
Luvarus
Lycaena
Lycaenid
Lycaenidae
Lycaeon
Lycosa
Lycosidae
Lygaeid
Lygaeidae
Lygus
Lymantria
Lymantriid
Lymantriidae
Lynx
Lyrebird
Lyrurus
Lyssavirus
Animals That Start With L Info Graphics
The animals that start with L infographic can help educators and learners share their thoughts. Infographics are one of the most effective ways to communicate a considerable amount of information engagingly. They are helpful for both print and the web.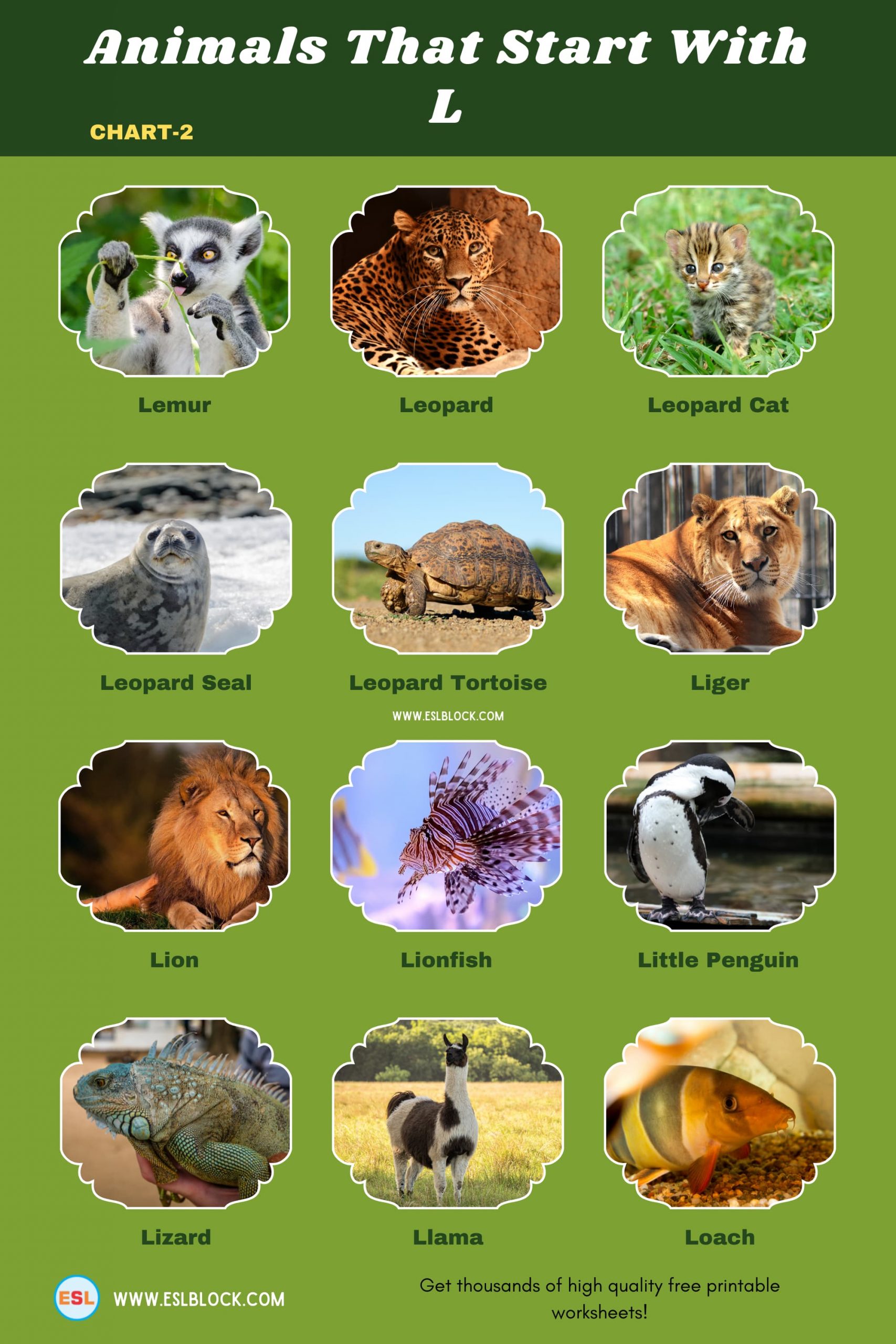 Conclusion
If you have enjoyed "Names of Animals That Start With L, "I would be very thankful if you'd help spread it by emailing it to your friends or sharing it on Twitter, Instagram, Pinterest, or Facebook. Thank you!
With ESLBLOCK, you will study with new ideas. If you doubt the qualities of Animals That Start With L, reach us through our blog's comment section. Keep checking back! We'll do our best to give you feedback as soon as possible. Thank you!
Also Read: Sentence Structures Worksheets
Recap of what we just learned
Animals Start With L
Animals Start With L List
Animals Start With L Info Graphics
Related Articles
Here are some more lists for you!