What are names of animals that start with H in English vocabulary? In this article, I will provide a comprehensive list of animals starting with H.
All these animals starting with the letter H are verified, using acknowledged sources for their genuineness before being enlisted. Source: Your Info Master.
Read also: Types of Sentences Worksheets
Animals That Start With H are for students at the grade 1 to grade 10. Here is a range of the H animals names that will assist students. I hope this will help!
Here are four letter animals starting with H, five letter animals that start with H, six letter animals starting with H, seven letter animals starting with H, and eight letter animals that start with H in English, arranged in alphabetical order, which helps students correctly understand the H animals names.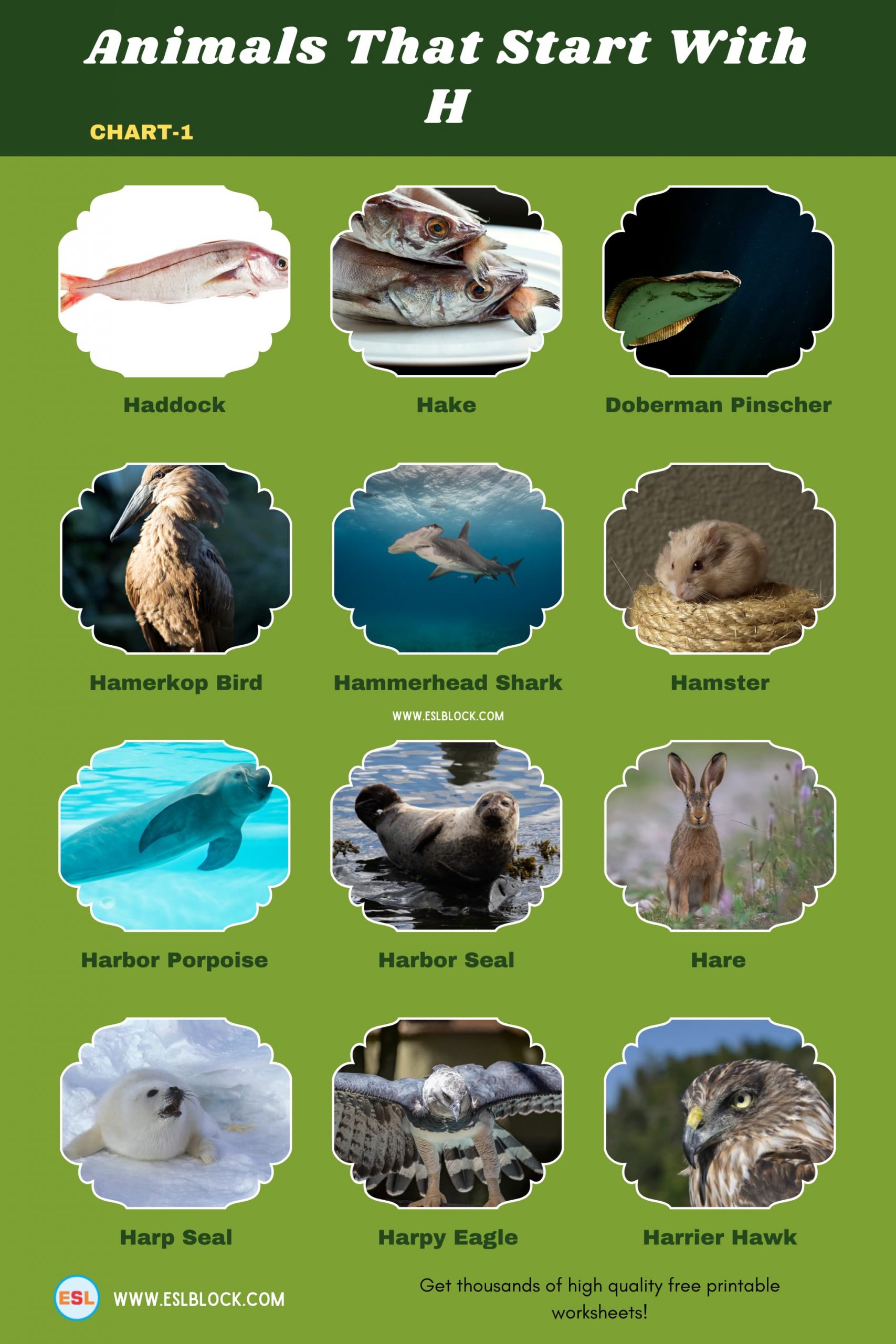 Virtually everyone living on earth has their favorite animals that start with H. But there are many H starting animals you may have never heard of!
Also Check: 12 Verb Tenses Worksheets
Animals That Start With H List
Here are animals that start with H in English that will encourage your English Vocabulary.
It is a fact that there are too many lovely animals that start with H; it is challenging to choose to include them in the list.
The following list of over over 200 animals names that start with H, is for you. All these H animals are validated using recognized world dictionaries.
Hack
Hackee
Hackle
Hackney
Haddock
Hadrosaur
Hadrosauridae
Hadrosaurus
Haematobia
Haematopodidae
Haematopus
Haemopis
Haemoproteid
Haemoproteidae
Haemoproteus
Haemosporidia
Haemosporidian
Haemulidae
Haemulon
Hag
Hagfish
Hair
Hairstreak
Hairtail
Hake
Halcyon
Haldea
Halfbeak
Haliaeetus
Halibut
Halicoeres
Halictidae
Haliotidae
Haliotis
Halobacter
Halobacteria
Halobacterium
Halophil
Halophile
Halter
Haltere
Hamadryad
Hamerkop Bird
Haminoea
Hammerhead
Hammerhead Shark
Hampshire
Hamster
Hand
Hangbird
Hanuman
Haploid
Haplosporidia
Haplosporidian
Harbor Porpoise
Harbor Seal
Hare
Harp Seal
Harpia
Harpy
Harpy Eagle
Harrier
Harrier Hawk
Hart
Hartebeest
Harvestfish
Harvestman
Hatchling
Haunch
Hausen
Havanese
Hawaiian Crow
Hawfinch
Hawk
Hawkbill
Hawkmoth
Hawksbill
Hazel Dormouse
Head
Headfish
Heathfowl
Hedgehog
Heifer
Heleodytes
Helicidae
Heliothis
Heliozoa
Heliozoan
Helix
Hellbender
Helleri
Hellgrammiate
Helminth
Heloderma
Helodermatidae
Hemachatus
Hemerobiid
Hemerobiidae
Hemigalus
Hemigrammus
Hemimetabola
Hemipode
Hemiprocnidae
Hemiptera
Hemipteran
Hemipteron
Hemipteronatus
Hemiramphidae
Hemitripterus
Hen
Herbivore
Hercules Beetle
Hereford
Hermissenda
Hermit Crab
Heron
Herpes
Herpestes
Herrerasaur
Herrerasaurus
Herring
Hesperiphona
Heterocephalus
Heterodon
Heterokontae
Heterokontophyta
Heteromyidae
Heteroploid
Heteroptera
Heteroscelus
Heterosomata
Heterostracan
Heterostraci
Heterotrichales
Hexagrammidae
Hexagrammos
Hexamita
Hexanchidae
Hexanchus
Hexapod
Hexapoda
Hide
Highland Cattle
Himantopus
Hind
Hindfoot
Hindlimb
Hindquarters
Hinny
Hippo
Hippobosca
Hippoboscid
Hippoboscidae
Hippocampus
Hippodamia
Hippoglossoides
Hippoglossus
Hippopotamidae
Hippopotamus
Hipposideridae
Hipposideros
Hippotragus
Hipsurus
Hirudinea
Hirudinean
Hirudinidae
Hirudo
Hirundinidae
Hirundo
Hissing Cockroach
Hiv
Hoactzin
Hoatzin
Hobby
Hog
Hogchoker
Hogfish
Hogg
Hogget
Holbrookia
Holibut
Holocentridae
Holocentrus
Holocephalan
Holocephali
Holocephalian
Holometabola
Holothuria
Holothurian
Holothuridae
Holothuroidea
Holstein
Homaridae
Homarus
Homeotherm
Homer
Hominid
Hominidae
Hominoid
Homoiotherm
Homona
Homoptera
Homopteran
Homotherm
Honey Badger
Honey Bee
Honeybee
Honeycreeper
Honeysucker
Honker
Hood
Hoof
Hookworm
Hoopoe
Hoopoo
Hooter
Hopper
Horn
Horn Shark
Hornbill
Horned Frog
Horned Puffin
Hornet
Hornpout
Horse
Horseback
Horsefish
Horsefly
Horsehead
Horseleech
Horseshoe Crab
Host
Hound
House Finch
House Martin
House Mouse
House Sparrow
House Wren
Housedog
Hoverfly
Howler
Howler Monkey
Human
Humanity
Humblebee
Humboldt Penguin
Hummingbird
Humpback
Humpback Whale
Humphead Wrasse
Huntsman Spider
Husky
Hyaena
Hyaenidae
Hyalophora
Hyalospongiae
Hybrid
Hydra
Hydrobates
Hydrobatidae
Hydrochoeridae
Hydrochoerus
Hydrodamalis
Hydroid
Hydromantes
Hydromyinae
Hydromys
Hydrophidae
Hydrozoa
Hydrozoan
Hyemoschus
Hyena
Hyla
Hylactophryne
Hylidae
Hylobates
Hylobatidae
Hylocichla
Hylophylax
Hymenopter
Hymenoptera
Hymenopteran
Hymenopteron
Hynerpeton
Hypentelium
Hypermastigina
Hypermastigote
Hyperoartia
Hyperodontidae
Hyperoglyphe
Hyperoodon
Hyperotreta
Hyphantria
Hypoblast
Hypoderma
Hypodermatidae
Hypodermis
Hypopachus
Hypsiglena
Hypsiprymnodon
Hyracoidea
Hyracotherium
Hyrax
Hystricidae
Hystricomorpha
Animals That Start With H Info Graphics
The animals that start with H infographic can help educators and learners share their thoughts. Infographics are one of the most effective ways to communicate a considerable amount of information engagingly. They are helpful for both print and the web.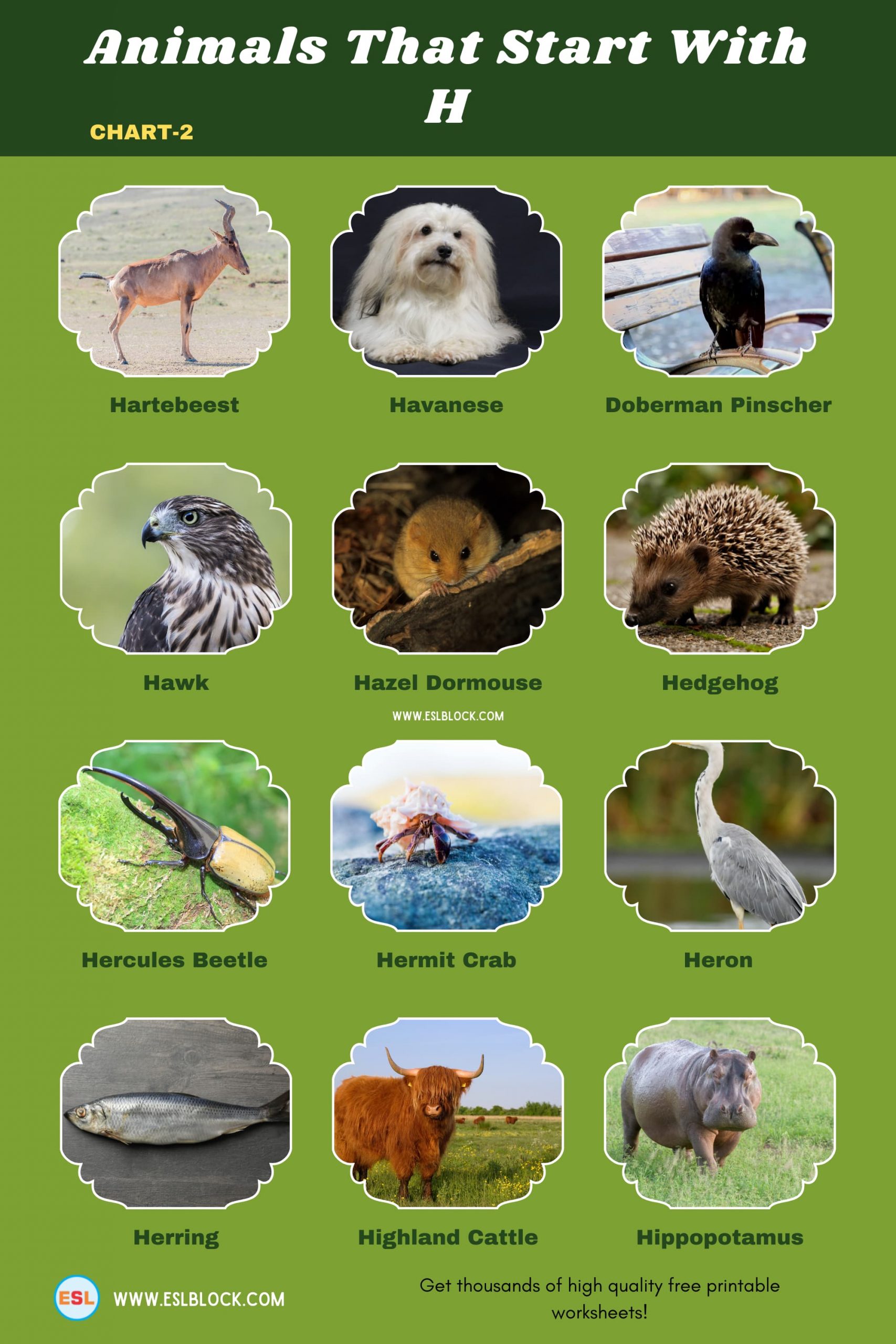 Conclusion
If you have enjoyed "Names of Animals That Start With H, "I would be very thankful if you'd help spread it by emailing it to your friends or sharing it on Twitter, Instagram, Pinterest, or Facebook. Thank you!
With ESLBLOCK, you will study with new ideas. If you doubt the qualities of Animals That Start With H, reach us through our blog's comment section. Keep checking back! We'll do our best to give you feedback as soon as possible. Thank you!
Also Read: Sentence Structures Worksheets
Recap of what we just learned
Animals Start With H
Animals Start With H List
Animals Start With H Info Graphics
Related Articles
Here are some more lists for you!