What are Demonstrative Adjectives? Using demonstrative adjectives in your written and spoken English is a fantastic method to enhance your sentences and more descriptive. There are a variety of demonstrative adjectives that are used in English that can be used to describe the location of the subject in time or space.
In this segment, we will learn how to use demonstrative adjectives and explore how they can be used in the context of a sentence.
How do you utilize demonstrative adjectives as well as pronouns in English? If the Noun or nouns must be recognized, particularly in a geographical or positional context an adjective that is demonstrative is employed.
If you are searching topic about "What are adjectives" then click on the link to know more about adjectives first!
How Do We Use Demonstrative Adjectives?
Choose the appropriate Pronoun that is demonstrative by knowing the location (near or far away from you) and the number of people there will be (singular as well as plural).
Primary singular forms of demonstrative adjectives
this – is used for a person or thing that is nearby or current. (This is my bike.)
that – is used for a person or thing that is further away (That car is so luxury.)
Primary plural forms of demonstrative adjectives
these – are used for more than one thing that's nearby (These shoes are mine.)
those – are used for more than one thing that's farther away (Those clothes are too expensive.)
Examples of Demonstrative Adjectives
Although it can be difficult to determine the right demonstrative adjective. It's actually more simple than you think. Look over this list of examples of demonstrative adjectives used in an example sentence to see how simple it is.
These grapes are nice.
I like those mangoes.
This airplane conveys passengers to Japan.
I think that phone is mine.
These noodles are very quick and easy to make.
Let me give you a hand with those books.
This car is expensive.
These chips are too spicy for me.
Hand me that pen, please.
That girl irritates me!
These shoes need to be polished.
Do you want to see this TV show?
I love those ice cream flavors best!
Do you need any help with those boxes?
Look at those geese!
This house is small.
This book is very interesting.
Demonstrative Adjectives InfoGraphics
Here are some printable infographics about Demonstrative adjectives. Printable infographics are a fantastic way to share a significant amount of details in a short time in a stunning way. The Demonstrative adjectives infographic can help teachers and students to share their thoughts easily.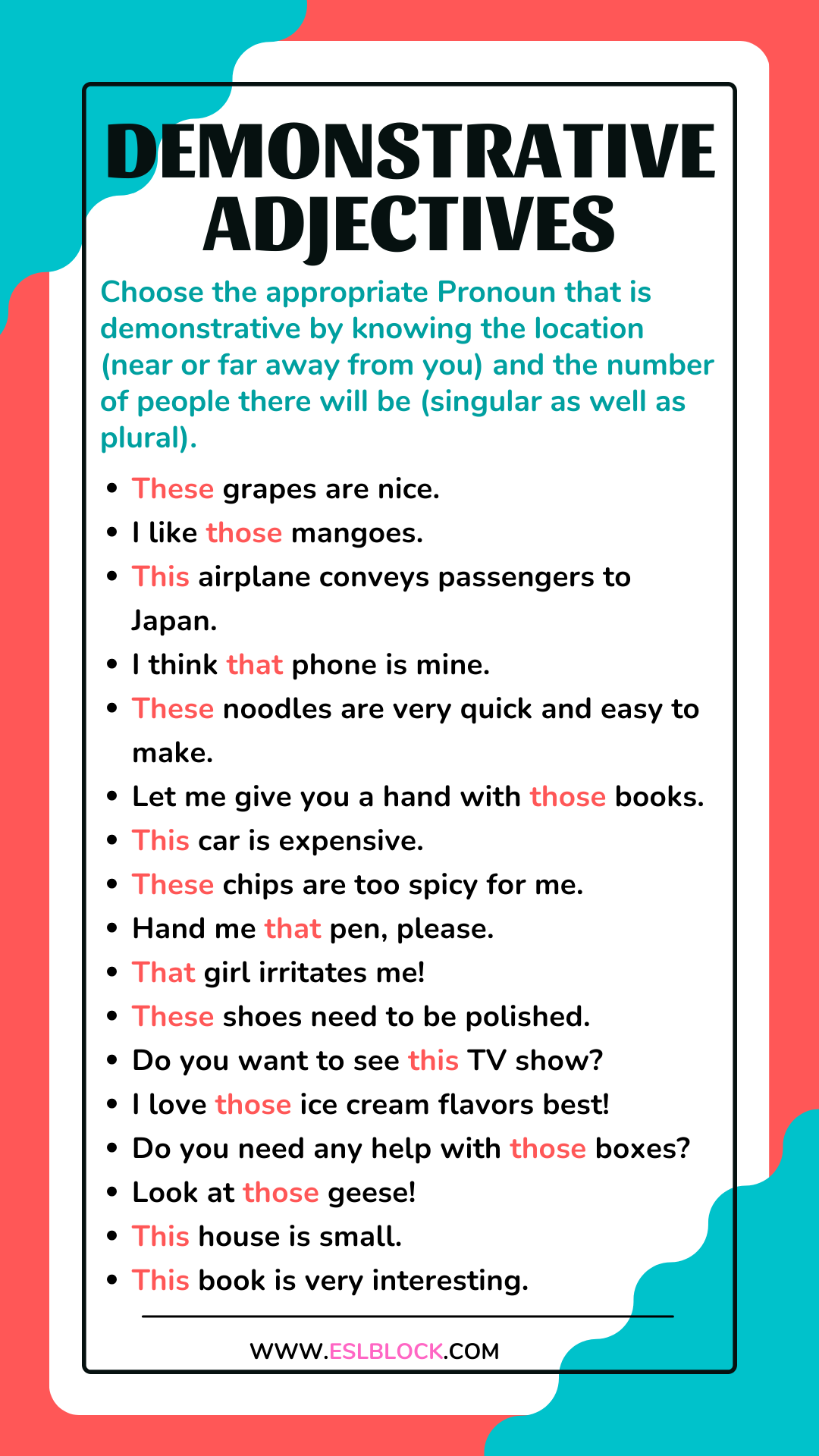 My Considerations
Since the Adjective is the main part of English reading, the importance of developing vocabulary cannot be undervalued without Demonstrative adjectives.
You can read the above simple list of Demonstrative adjectives to improve your understanding of English grammar.
Encourage your children to learn these basic but commonly used Demonstrative adjectives, by following the simple example sentences given above. Then, save this list of Demonstrative adjectives, handy for future interview use.
If you enjoyed a printable infographic about Demonstrative adjectives, I'd be very thankful if you'd help it spread by emailing it to your friends or sharing it on Pinterest, Reddit, Twitter, Instagram, or Facebook. Thank you!
Recap of what we just learned
What are Demonstrative Adjectives?
Why Do We Use Demonstrative Adjectives?
Proper Demonstrative List
Proper Demonstrative example sentences
Proper Demonstrative InfoGraphics
If you're having any doubts about the qualities of Demonstrative adjectives, you can leave a comment below, and we'll attempt to give you feedback as early as possible. Thank you!
Related Topics
Explore the full list of Adjectives to Describe a Person from A to Z!